A behind-the-scenes look at sewer surveillance for COVID-19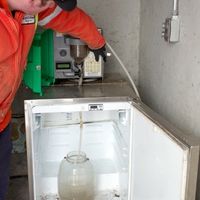 With provincial changes in eligibility for PCR testing, wastewater surveillance is becoming an important source of information for public health and researchers to monitor COVID-19 activity in our community.
Our treatment operators have been sampling wastewater since June 2020, currently three-to-five times per week.
The automatic wastewater sampling equipment takes a measured volume of raw wastewater entering the plant, at set intervals of time. We set it for about 250 mL every 30 minutes to one hour, over a 24-hour period. This gives us a composite sample with characteristics of the wastewater entering the plant over an entire day, instead of at one single time. Then one litre of that sample is labelled and sent to Queen's University for analysis.
KFL&A Public Health makes the data available on its COVID-19 in wastewater dashboard. The partnership between KFL&A Public Health, Queen's University and Utilities Kingston serves as another important tool to monitor the presence of COVID-19 virus in our community.
Utilities Kingston is working with public health and researchers to explore opportunities to increase the number of wastewater samples collected, which will improve the quality of wastewater data.
What are the results telling us?
Not only does the presence of COVID-19 in wastewater samples indicate that there are active cases in the area, but the amount or concentration of the virus in the sample appears to be related to the number of active cases in the city. For example, in early November, the COVID-19 signal in Kingston sewage started to increase compared to previous measurements, and soon after, there was an increase in the number of COVID-19 cases reported to public health in our community.
The amount of COVID-19 in wastewater continued to increase throughout November and December, correlating very well with the number of cases being reported to public health.
Our colleagues at Queen's University and in public health are working hard on understanding the relationship between the amount of virus in each sample and the numbers of active cases. The work that Utilities Kingston is contributing to helps researchers demonstrate that wastewater sampling can provide early warning detection for new COVID-19 outbreaks and may be used to estimate the extent of future outbreaks.
Kingston's wastewater samples are collected at three locations across the City, which provides researchers a unique opportunity to observe regional trends in how COVID-19 spreads through our community:
Cataraqui Bay Wastewater Treatment Plant (west-end)

King Street Sewage Pumping Station (central)

Ravensview Wastewater Treatment Plant (central and east-end)
What's next?
The wastewater sampling program provides opportunities for researchers and government agencies to develop predictive models using wastewater data and correlations with COVID-19 case numbers and hospitalization rates.
Utilities Kingston is proud to contribute to this partnership!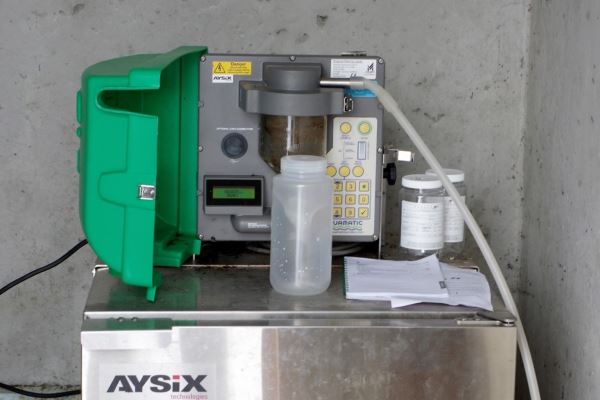 The automatic wastewater sampling equipment