Twenty-five years since the Ice Storm of 1998
This article was published more than 6 months ago. Some information may no longer be current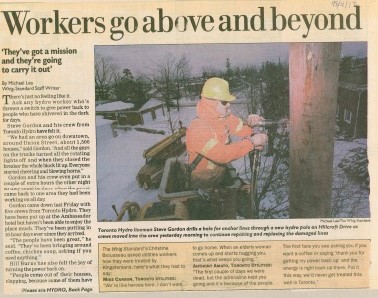 January 8, 1998, was a day most people in Kingston will probably never forget. That was the first full day of the so-called 'Storm of the Century' for Kingston, an ice storm that decimated parts of the northern United States, Maritimes, Quebec and eastern Ontario, including Kingston and Ottawa.
The organization known as the Public Utilities Commission was just coming together as a new company called Utilities Kingston. On January 1, 1998, the PUC had dissolved as part of the municipal amalgamation that created the new City of Kingston, combining the former City of Kingston, the Township of Kingston and the Township of Pittsburgh.
There were new faces, new Council and partners hadn't yet developed some key relationships within Utilities Kingston and our community. Yet, the challenges of the Ice Storm brought our team together. With many downed powerlines, our first priority was keeping employees and residents safe. Our team demonstrated two important things to Kingston:
The importance of our core multi-utility services that our community counts on, which is still true today.

The teamwork that is the hallmark of our organization, especially in times of emergency.
Our retired president and CEO Jim Keech recently spoke with Global News about our experience with this event:
Former president of Utilities Kingston speaks on ice storm of 1998 - Kingston | Globalnews.ca
Today, our employees from all departments come together time and again in the face of utility emergencies. This was evident during the major winter storm that hit our region this past Christmas, marked by the dedication and expertise of our staff. The work that Utilities Kingston staff have done since the Ice Storm to build greater resiliency through asset renewal activities, system planning for redundancy, or active tree maintenance to protect lines, means that the hydro system we manage is even stronger today.
At the time of the Ice Storm, our community demonstrated their support and understanding, and this trust continues today. Thank you to all of you for your ongoing support of Utilities Kingston and our employees.