Why choose Utilities Kingston for your locating needs?
Safe, accurate and local: Utilities Kingston is an industry leader, recognized for safety excellence. Our multi-utility model is unique in Ontario, combining water, wastewater, gas and electrical services and a broadband fibre optics provider in one company.
Our certified damage prevention technicians are familiar with local municipal infrastructure. Our experience, technical knowledge, and the latest radio detection technology make us a reliable choice for all your locating needs.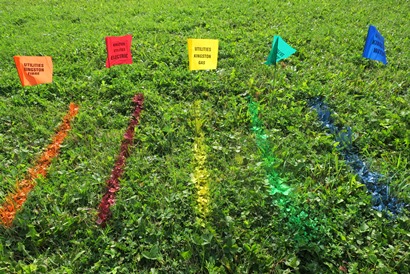 We provide fast and reliable service. Our multi-utility model positions us to be experts in locating all utility services including water, sewer, gas, electric, and fibre optics with one call and one appointment.
How it works:
Contact Ontario One Call 'before you dig'. Call or click at 1-800-400-2255. You will receive an Ontario One Call locate request ticket number, and we will locate and mark municipally-owned infrastructure for free.
Once you have this ticket number, contact Utilities Kingston to arrange for privately-owned infrastructure locating services. You can use the convenient request form below, or call 613-546-1181, extension 2194. Have your Ontario One Call locate request ticket number, site information, invoice information, and description of work available.
Gather available documentation, including any maps and drawings of the infrastructure to be located.
A Utilities Kingston locator will meet you on site and review the available records.
Where possible, we will locate pipes and cables with radio detection equipment. Other techniques
will be used when radio detection equipment cannot be.
We will provide you with an easy-to-read sketch, measurements or a survey-grade GPS file of your buried infrastructure (if requested).
An hourly fee applies. We will provide a quote after receiving your request and supporting documentation.
Request a private commercial or industrial locate
Form instructions
All fields marked with an * must be completed.
Clarification will be provided immediately after any field with invalid or incomplete input.