Basement flooding awareness
Overview
If you have a home with a basement, flooding is an inherent risk, simply due to the nature of what it is – a space built into the ground. Not only is your basement at risk of potential flooding from surface water, storm water, and groundwater, but it is also at risk of a sewage backup. While the risk from day to day is quite low, the chance does exist, particularly during a severe rain event, and the best way to reduce that risk is to understand the causes of basement flooding, and know how to best protect your investment.
This Utilities Kingston webpage is your headquarters for basement flooding awareness and is filled with useful information and links to other great resources on the topic. Please take a look through the material.
If you are currently experiencing a basement flood or sewer backup…
First and foremost, be safe!
Report your basement backup.
Call your insurance company.
Report your backup to Utilities Kingston on-line by using our

on-line flood reporting form

, or by calling 613-546-0000.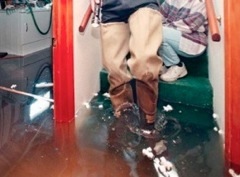 image courtesy ICLR, 2009
Basement flooding overview
Learn more about basement flooding
Prevent a soggy disaster. Keep your basement dry with tips from our video.
Flood facts
Visit our Flood facts and tips page to discover useful facts and tips about how to reduce the risk of basement flooding in your neighbourhood.
Why should I take Utilities Kingston's word for it?
Well, you don't need to. Basement flooding issues are universal and generally the approaches to dealing with the problem are too. For more information, check out any of these other excellent resources: