Overview
What are sewer overflows?
View this video to learn about sewer overflows, the history of the problem and what we're doing about it.
A sewer overflow is when sewage from the sanitary and combined collection systems overflows to the environment. It is often a result of the sewers being too full - typically because of excessive groundwater and stormwater entering the sewer system during heavy rains or rapid snowmelt.
Some of this extra water is collected on purpose, by combined sewers. Some of it comes from leaky pipes and maintenance holes and illegally-connected sump pumps, foundation drains and roof downspouts.
The majority of sewer overflows that occur in the city of Kingston are due to inherited combined sewers – sewers that collect both sewage and stormwater runoff. These are referred to more specifically as "combined sewer overflows" or CSOs.
Overflows of sewage ultimately make it to the environment. When the overflow reaches the lake or river, it contributes pollutants to the environment. This is not only damaging to the environment itself, but also to the health and safety of the flora and fauna that use or live in the water. Typically what overflows from the system is combined sewage, or in other words, sewage that has been highly diluted by stormwater.
Why not just stop them?
Wastewater system operators do not have control over when and where overflows happen. The ability for a sewer to overflow, and the structures that allow it to happen, are inherited through the evolution of sewage collection. This is the case in almost all cities in Canada and abroad.
The ability to overflow is purposely built into the system, and occurs to prevent sewage from flooding the basements of homes and properties. Learn more from our section Frequently Asked Questions.
What are the solutions?
There are a number of technical solutions available to reduce and eliminate overflows. While Utilities Kingston uses these approaches where it makes sense, a recent update to Pollution Prevention and Control Plans has directed us to focus on source control strategies as the preferred path towards sewage overflow reduction.
Here are the general categories to address sewer overflows over the long term:
What is Utilities Kingston doing about it?
We are proud of the work we are doing in this area and demonstrating leadership in many ways.
Check our page on sewer overflow reduction to learn about other ways we are actively reducing the problem.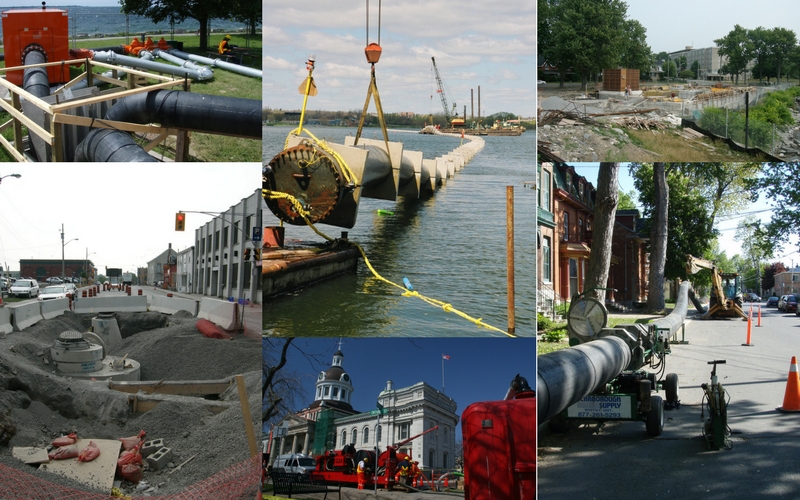 Where can I find out more?
Being open and transparent about this problem is important. Our web resources are intended to help improve understanding and to answer your questions. Below is a summary of available resources from Utilities Kingston. If you don't find what you're looking for, contact customer service, Monday to Friday from 8 AM to 5 PM by calling 613-546-0000.
Looking for other sources of information? Try the following: