Is your gas meter being changed? Here's what you need to know
It's important for our customers to receive accurate bills for the amount of gas, water and electricity consumed by their household or business. Reliable metering equipment is an important part of ensuring our customers continue to receive accurate bills.
As determined by Measurement Canada, and in accordance with the Electricity and Gas Inspection Act, every year we send a sample number of gas meters to verify accuracy and that the meters conform to legal requirements. Gas meters must be verified and reverified within appropriate periods, established on the basis of their stability of performance, application and usage. Measurement Canada determines how meters are selected for verification. This is based on criteria that include age, size and manufacturer. Meters are typically verified and reverified every seven to 10 years.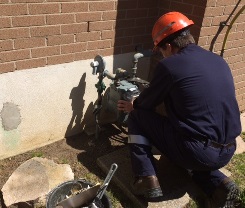 In 2022, Utilities Kingston aims to replace approximately 2,600 of the 15,000 gas meters in the municipal gas distribution system.
There will be some interruption to customers, but we'll try very hard to reduce the impact to homes and businesses.
What to expect
If your home or businesses is slated to have the gas meter replaced as part of our obligation under the Electricity and Gas Inspection Act, here is what to expect during the non-heating season from April to November:
If your home or business is part of this planned work, you will receive a notification in your physical mailbox. It will provide notice of the work and when it will take place.

On the specified date, a certified gas technician will visit your premises to replace your gas meter.

To facilitate the work, your gas service will be shut off.

In order to turn the gas service back on safely, we'll first require access to your building, so that we can inspect natural gas piping and appliances. If you are not home during the day of our scheduled work, a notice will be left with contact information. Please call us when you get home. Technicians are available to inspect and re-light your gas appliances from 8 AM – 9 PM. Here's what else to expect:

If your gas appliances or piping are malfunctioning, our technician will provide information on what to do next. As per our terms of service, we're not responsible for the cost to repair this equipment.
If your gas appliances or piping conform to code, our technician will turn the gas back on and relight your appliances for you.
Questions? Please contact customer service at 613-546-0000, from Monday to Friday, 8 AM to 5 PM.