2017 Achievements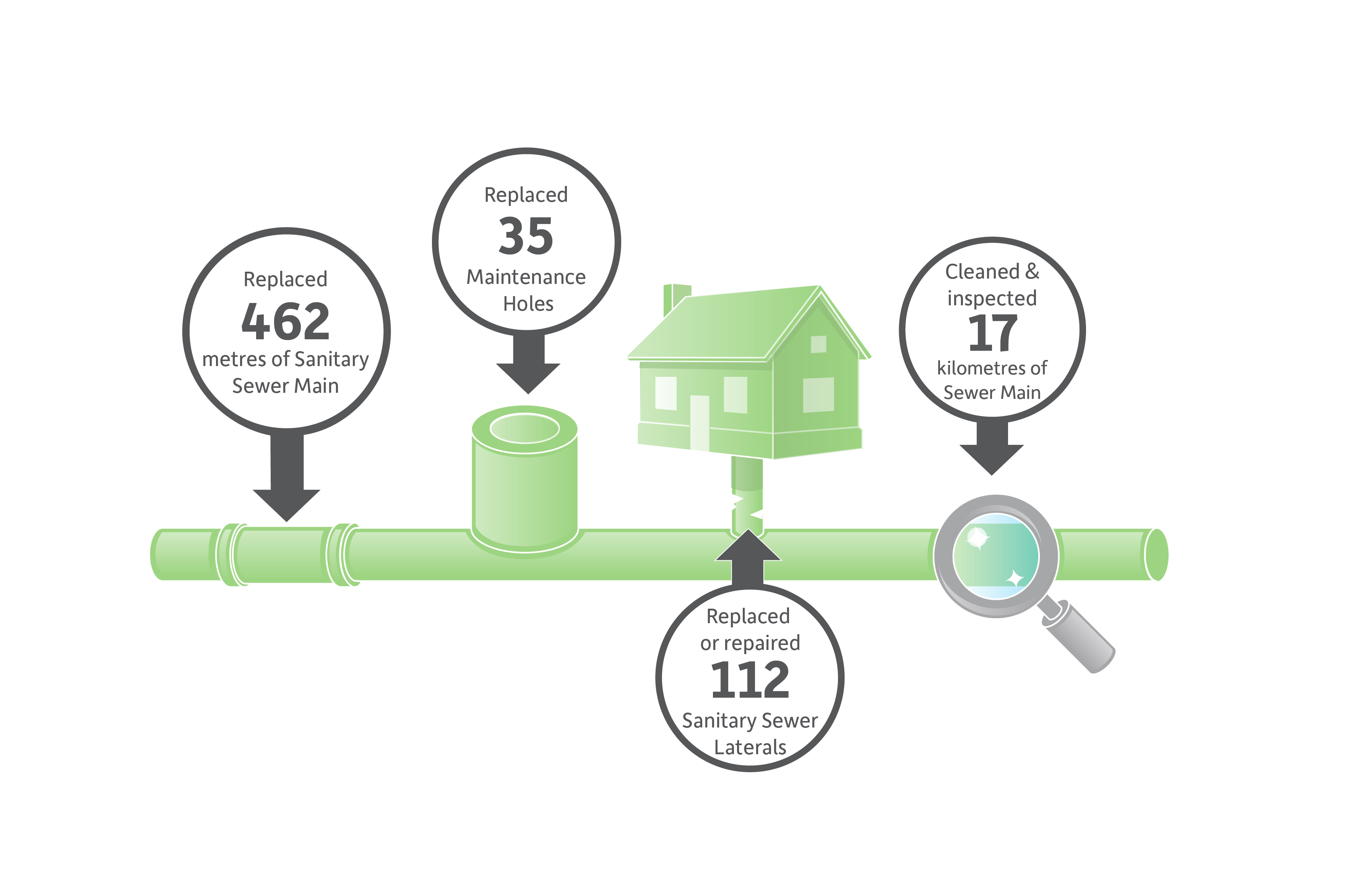 What's the context?
We've provided data on our achievements in 2017. If you're looking for additional context on how much overall infrastructure we maintain, check out our overview infographics.
Expansion Progress: Cataraqui Bay Wastewater Treatment Plant
At year end, we were one-third of the way into constructing the four-year, $88 million expansion and upgrade of the Cataraqui Bay Wastewater Treatment Plant. This work will increase plant capacity, improve the quality of treated wastewater the plant discharges, and upgrade equipment.
Over the past year, efforts focused on constructing buildings for the secondary treatment system and dewatering facility – the building structures are in now place. Next steps include interior work for these buildings, such as mechanical and electrical systems, and treatment equipment installation.
Neat to know: Biological aerated filter cells combine the biological treatment and filtration of wastewater into one system that removes ammonia, along with most dissolved contaminants and solids. The Cataraqui Bay design incorporates second-generation filter media called BIOSTYR® DUO, an innovative advancement that allows more wastewater to be treated in a smaller physical footprint, and saves on the total constructed cost of the treatment system. It will be one of the first of its type in Canada.
Get more information and construction photos from our website.
By ensuring the reliability of wastewater services and helping to protect Lake Ontario, this project will benefit the community today and generations to come.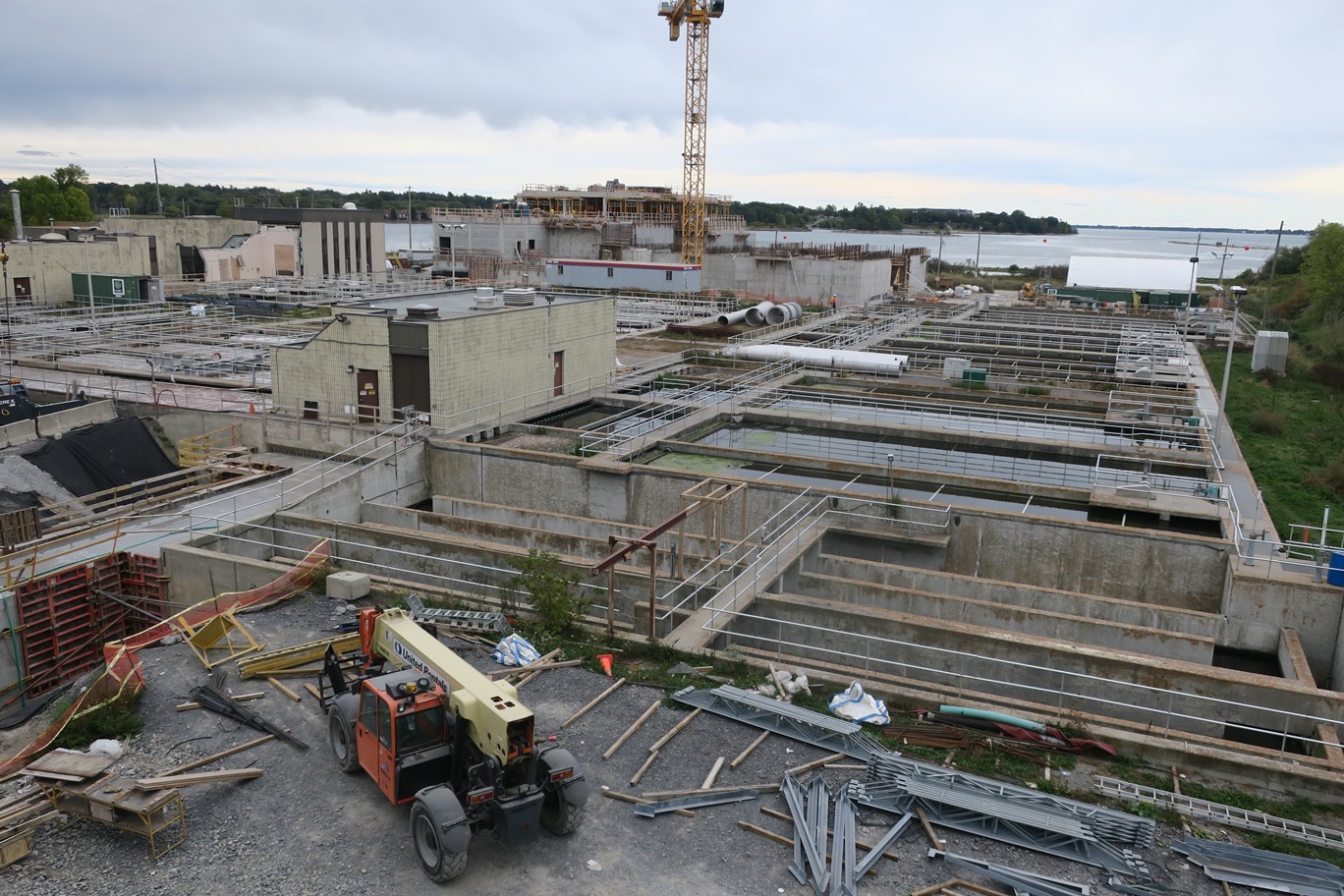 Kingston Offers Real-time Public Notification
of Sewer Overflows
In 2017, Utilities Kingston announced that it would make Kingston the first municipality in Ontario, and possibly in Canada, to offer real-time public notification of sewer overflows.
We are proud to represent the first municipality in Ontario to help its residents make more informed decisions on recreational water use, as we continue to both reduce sewer overflows and openly share information. Water users can consider our real-time sewer overflow map before they swim at certain locations at Lake Ontario within 48 hours of a heavy rainfall. Learn more from our video.
The announcement was made at a media event that included stakeholders from City of Kingston, KFL&A Public Health, Lake Ontario Waterkeeper, Ministry of the Environment and Climate Change, and Cataraqui Region Conservation Authority.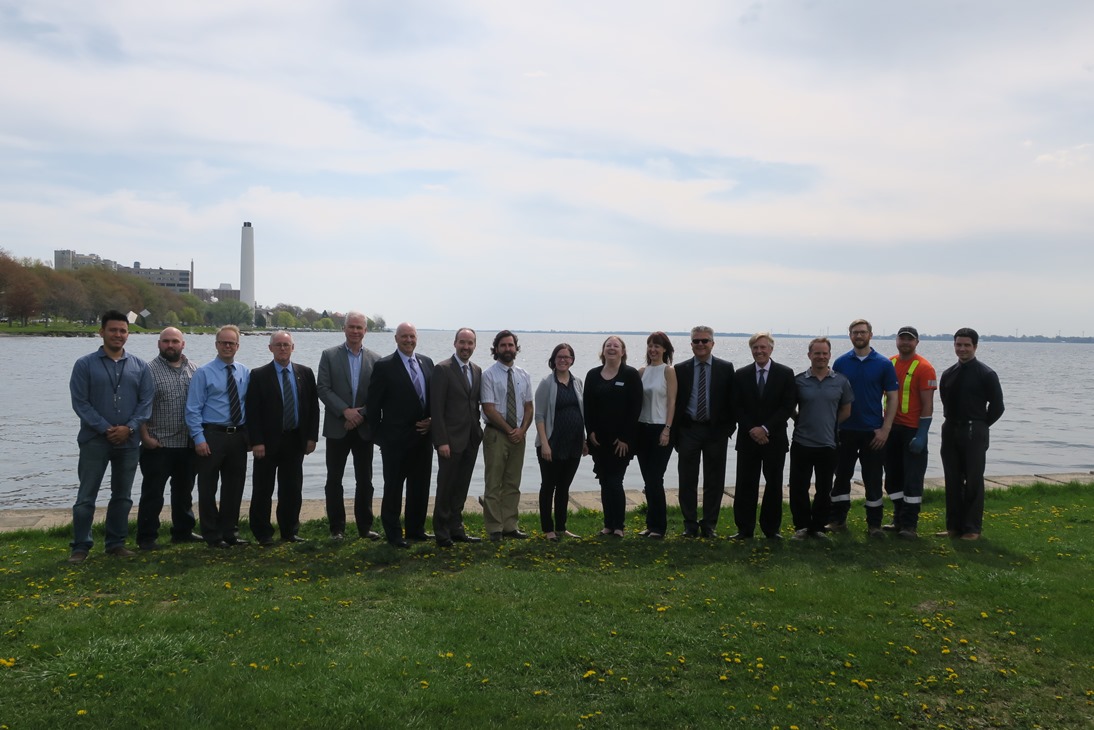 Preventative Plumbing Program
For the sixth year, Utilities Kingston offered the Preventative Plumbing Program to customers, helping to reduce the risk of sewage back-ups and basement flooding in neighbourhoods. Since 2012, the program has provided assistance to 925 home owners.
In 2017, program participation increased by 225 per cent from the previous year, due to a number of factors including a significant increase in precipitation and program uptake from a number of plumbing companies. An amount of $625,000 was invested to assist home owners through this program.
Here are our 2017 program results:
Environmental Protection
Utilities Kingston continues to keep abreast of the best available technology in the treatment of wastewater. We look forward with confidence that we will always be able to enjoy the recreational waters of Kingston, while maintaining growth and prosperity in a healthy environment.
In Ontario, the Ministry of the Environment and Climate Change is the government body responsible for environmental protection, including the provision of clean water through pollution control and prevention. The effluent from the City of Kingston's treatment facility is required to meet stringent limits established by the Ministry for discharge to receiving waters.
Regulatory activities in 2017 included:
Continued progress on the wastewater quality management system. Focusing on the Ravensview Wastewater Treatment Facility and associated pumping stations in 2017, this work will move us closer towards a complete operational plan for wastewater services.

Reporting to the Ministry of the Environment and Climate Change on the quality of our wastewater treatment.

A plan to optimize water and wastewater treatment, distribution and collection processes for energy efficiency. The goal is to reduce the energy used to pump and treat water and wastewater, and make energy efficiency upgrades to equipment, while taking advantage of available grants and incentives.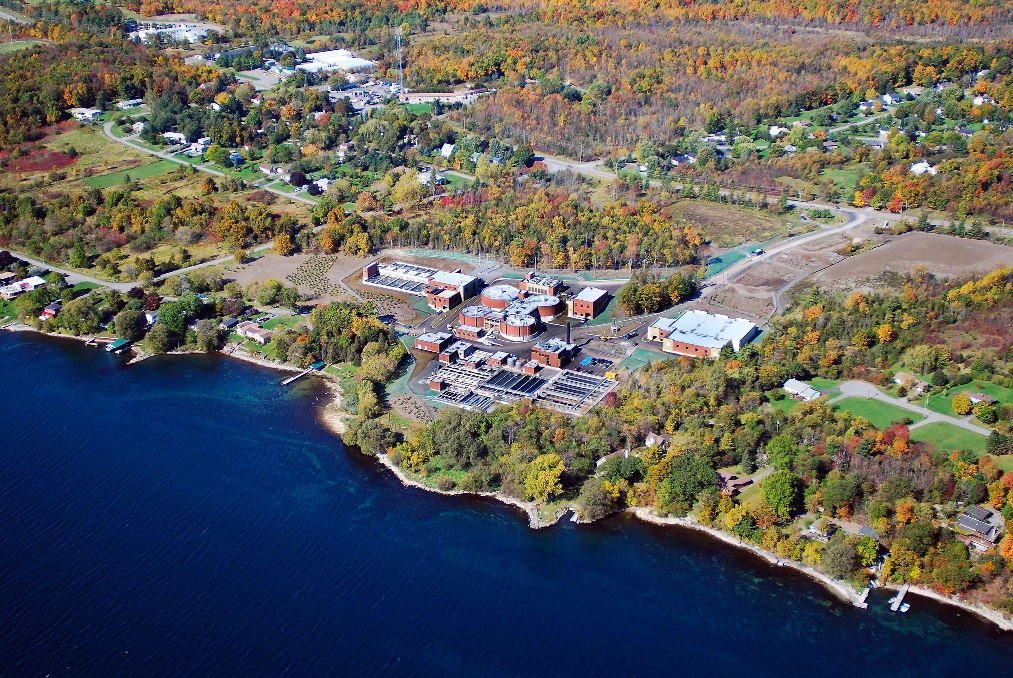 Wastewater by the Numbers
37,159
Homes and Businesses Served
292 from previous year
156
Sewer Safety Inspections
128 from previous year
Financials