What's the context?
In 2017, managers and supervisors completed 252 formal staff safety observations. That's 104 per cent of the required total. Nine of these visits identified safety non-compliances and were addressed with the employees involved.
Health and Safety Awareness and Training
The Utilities Kingston health and safety management system helps to reduce accidents and injuries, ensures safe work environments, and furthers a culture of safety.
As part of this system, management is responsible to provide health and safety training. Highlights for 2017 include the following:
66
Training Sessions
3130
Hours of Participant Training
252
Formal Staff
Safety Observation
A Unique Approach to Improving Safety Culture
The goal of Safety Days is clear and simple: get everyone home safe every day. In 2017, 530 participants from 147 contracting firms were in attendance, growing from just 10 participants in 2005. This innovative approach to promoting a culture of safety is recognized across Ontario, with several companies and municipalities now striving to model this event.
The event featured keynote speaker Rob Ellis, president of MySafeWork, who became an advocate for health, safety and wellness in the workplace after the death of his son David in 1999.
The annual event is jointly hosted by the City and Utilities Kingston to promote best safety practices amongst employees – and local contractors and suppliers in the industry. Its sessions emphasize safety as the highest priority on every Kingston work site.
Ellis presented the League of Champion jersey to the City of Kingston and Utilities Kingston for our commitment to become Champions for achieving safety excellence. Participants attended a Ministry of Labour Mock Trial on Thursday afternoon, presided over by Justice of the Peace Jack Chiang. Thank you all for your commitment to making safety a priority at Kingston worksites.

Cross Bore Prevention
In 2017, we conducted 156 sewer safety inspections and did not find any cross bore occurrences.
The cross bore prevention program is a requirement from the Technical Standards and Safety Authority (TSSA) that was mandated for all gas distributors in 2011. The program addresses safety precautions when clearing a blocked sewer lateral.
Utilities Kingston's program includes communicating with plumbers and homeowners to "Call Before You Clear". Once the call is received, staff conduct a sewer safety inspection to rule out the possibility of a sewer cross bore. Our communication and outreach program continues to increase public awareness.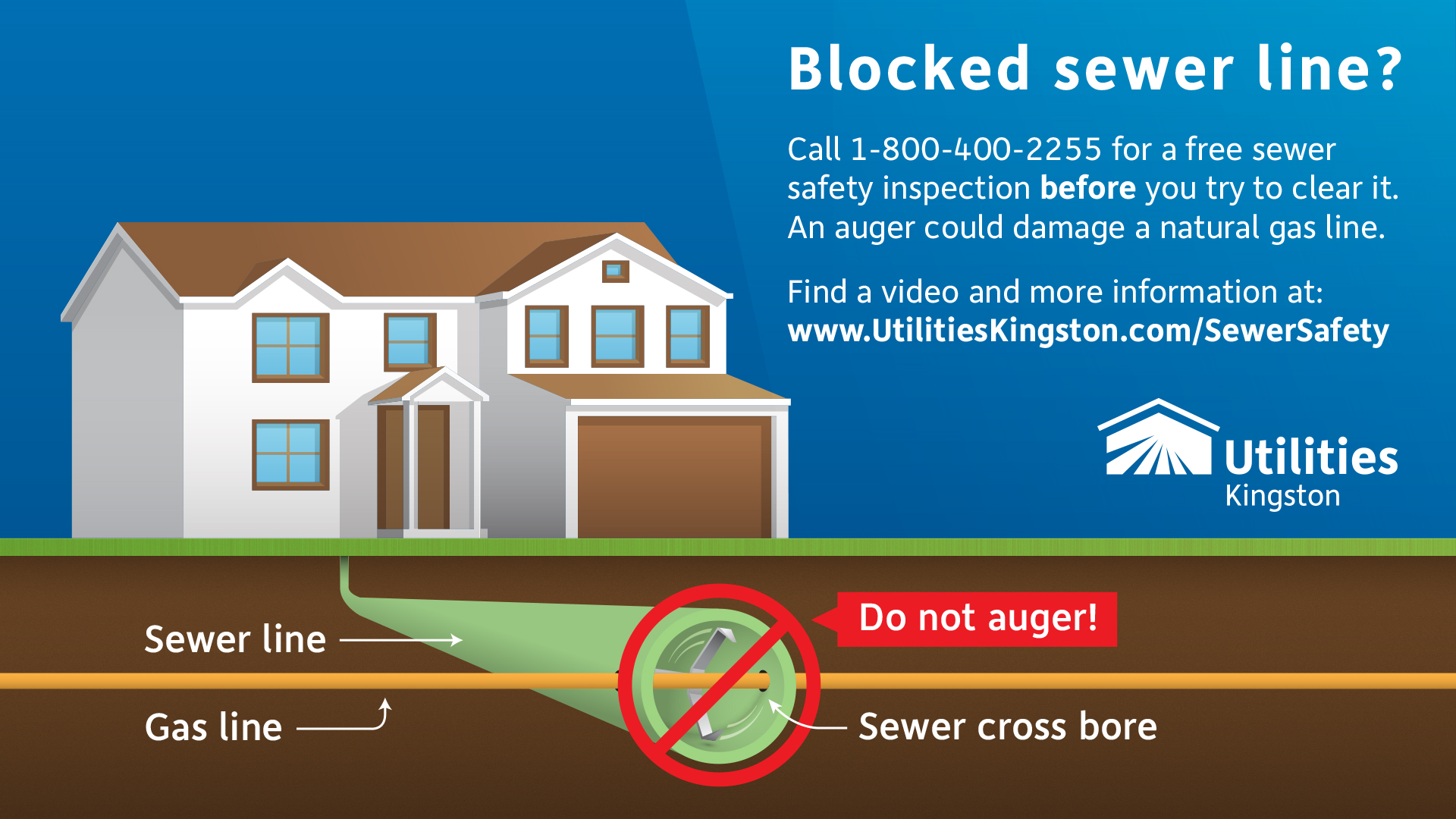 Wellness Day
The annual Wellness Day event allows all employees an opportunity to speak with wellness providers in the local community in order to assist them in living a healthy lifestyle.
Twenty-two vendors took part in the 2017 event, sharing their health and wellness message with employees. Topics included:
E

mployee benefits

Hearing tests

Blood pressure checks, and glucose screening

Physiotherapy assessments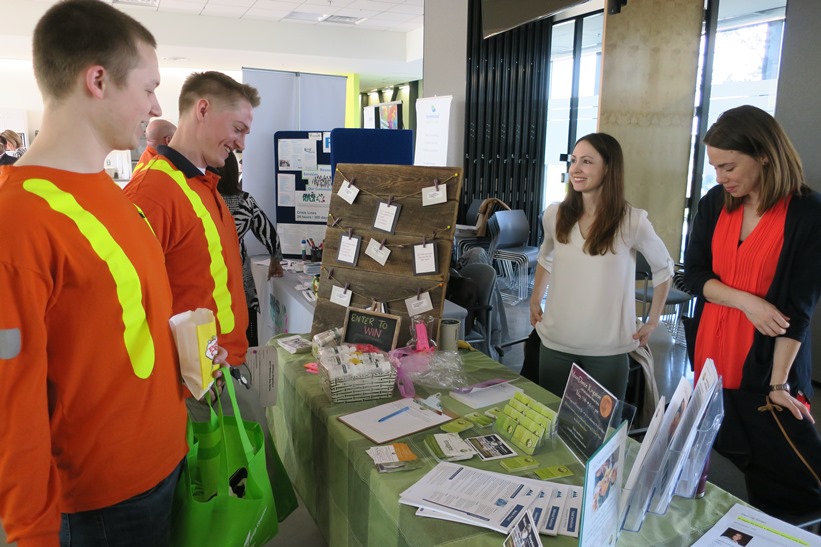 Summer Safety Days
Our skilled trades people connected with local young people to stress the importance of safety when playing outside.
The 2017 Summer Safety Days event brought together over 800 grade 7 and 8 students from the Kingston area to learn about safety. Students participated in an electrical safety presentation by Utilities Kingston employees. This presentation highlighted safety hazards associated with overhead and underground electrical lines.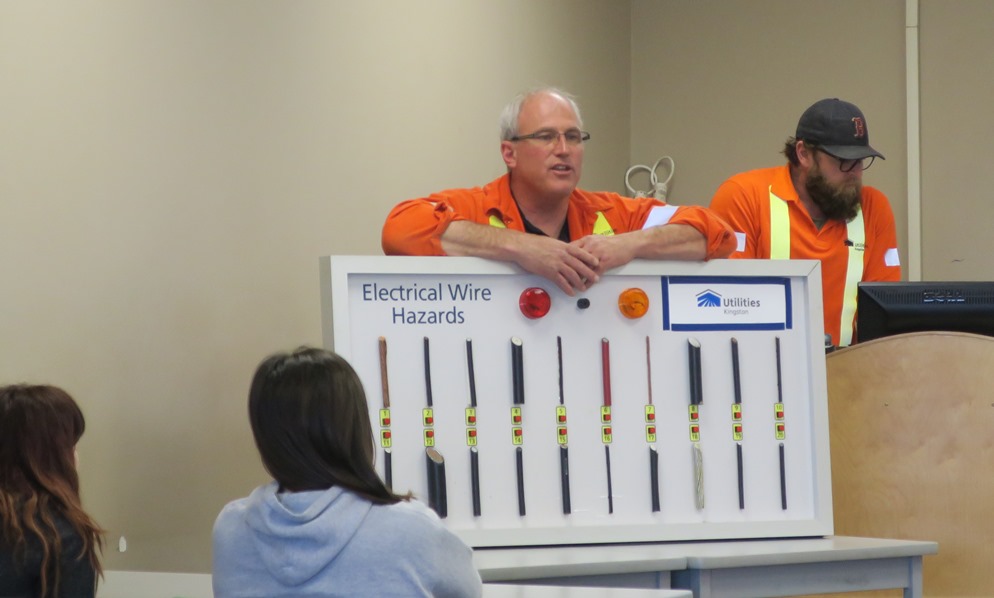 Ensuring the Safety of Underground Infrastructure
7740
Locate Requests
98%
Completed Within 5 Business Days
Utilities Kingston has participated in ON1Call since 2013. During 2017, Utilities Kingston responded to 7,740 locate requests. Our goal is to complete locates within five business days. We achieved this 98 per cent of the time.
In 2017, we focused efforts on the accuracy of our mapping program, helping to improve the efficiency of our locating services.
Don't take the risk of damaging underground infrastructure – get a free locate, it's the law! That is the industry refrain that's helped encourage an increase in requests to locate underground water, sewer, gas, electricity and fibre infrastructure.
Awareness through Advocacy
The Ontario Regional Common Ground Alliance (ORCGA) is an organization with a mandate to effectively eliminate damages to underground infrastructure through advocacy, education and engagement. It is represented by safety leaders from 530 organizations.
The 2017 ORCGA 'Member of the Year' award was presented to Utilities Kingston's manager of service and gas operations, Karen Santucci. The award goes to a member whose dedication and service to the ORCGA went above and beyond the call of duty during a given year. Karen was also elected to the ORCGA Board of Directors to represent the gas/oil distribution stakeholder group.