Water Efficiency
Water conservation extends the life of municipal infrastructure, allows for population growth, and reduces the cost of treating and pumping water and sewage. Our water conservation programs empower families and businesses to save money, reduce the environmental impact of utility services, and help home owners manage excess water on their properties.
2017 Achievements
Utilities Kingston conservation experts work directly with commercial customers to identify and fund conservation investments.
$64,646 for
24 Customer Projects Stimulated
$3M
in Local Conservation Work
107,390 m3
Water & Sewage
Saved Annually
428
Enough to Supply 428 Average Residential Customers
Rain Barrel Program
In its eleventh year, our rain barrel program continues to be popular with our community.
Watch our video to learn more.
Rain barrels help protect the environment by reducing the amount of treated lake water used for watering plants and lawns, diverting significant quantities of rainwater from the sewer system during storms. They help conserve energy by reducing the amount of water and wastewater that needs to be treated and pumped.
2017 results: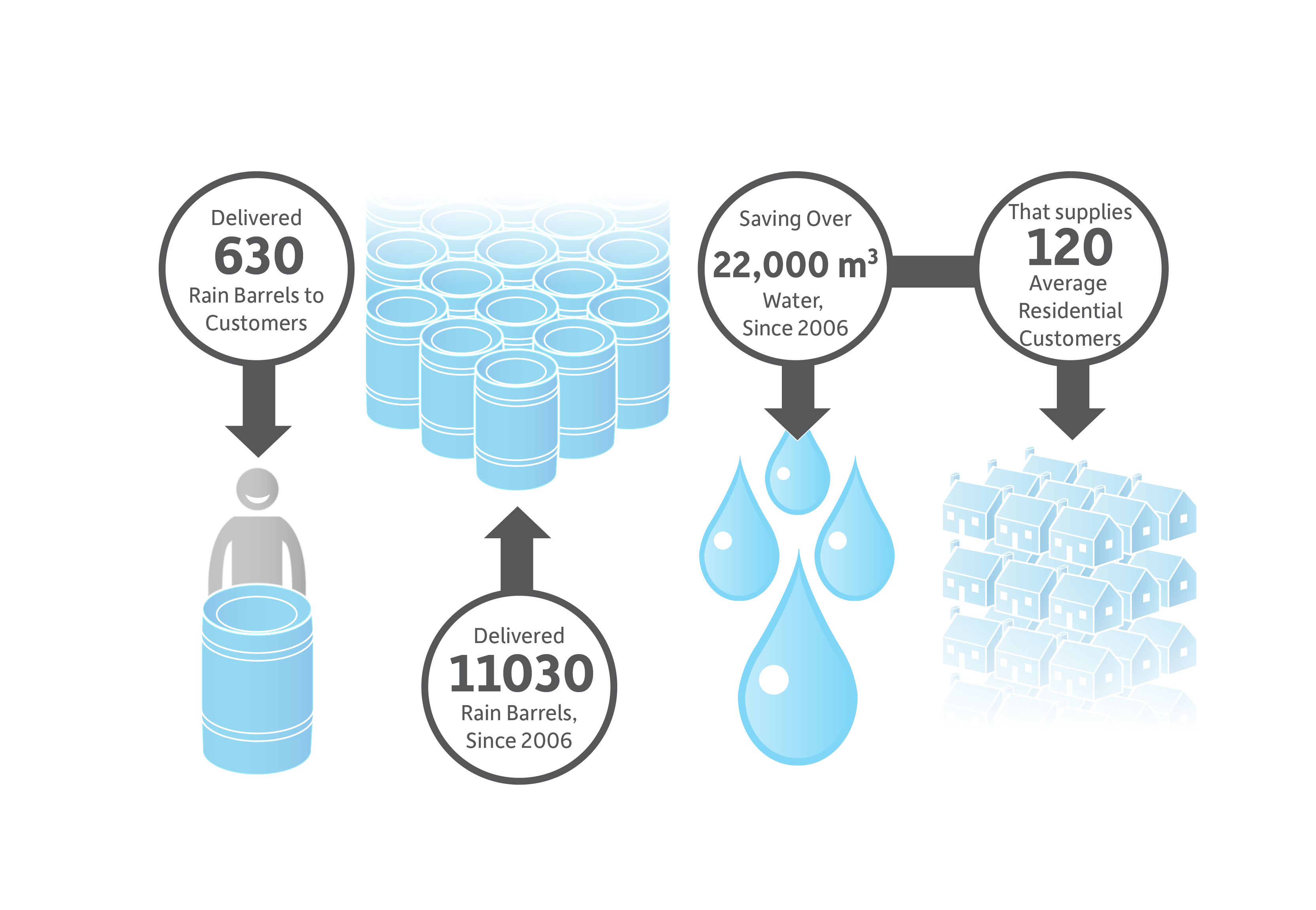 Water Conservation Garden
Featuring native, water smart plants and sustainable gardening tips, this inspiring space provides public education on how to use less treated water on lawns and gardens during summer peak consumption times. You can enjoy a beautiful and low maintenance garden.
We'd love to see you at our award-winning water-wise garden! Join us in the summer months for a free tour and children's activities, weekdays at 10:30 AM.
In 2017, we hosted 212 visitors to the garden, including participants of four Everything Drainage Workshops. Participants learned to manage excess water on their property, prevent basement flooding and comply with the City of Kingston's Sewer Use Bylaw.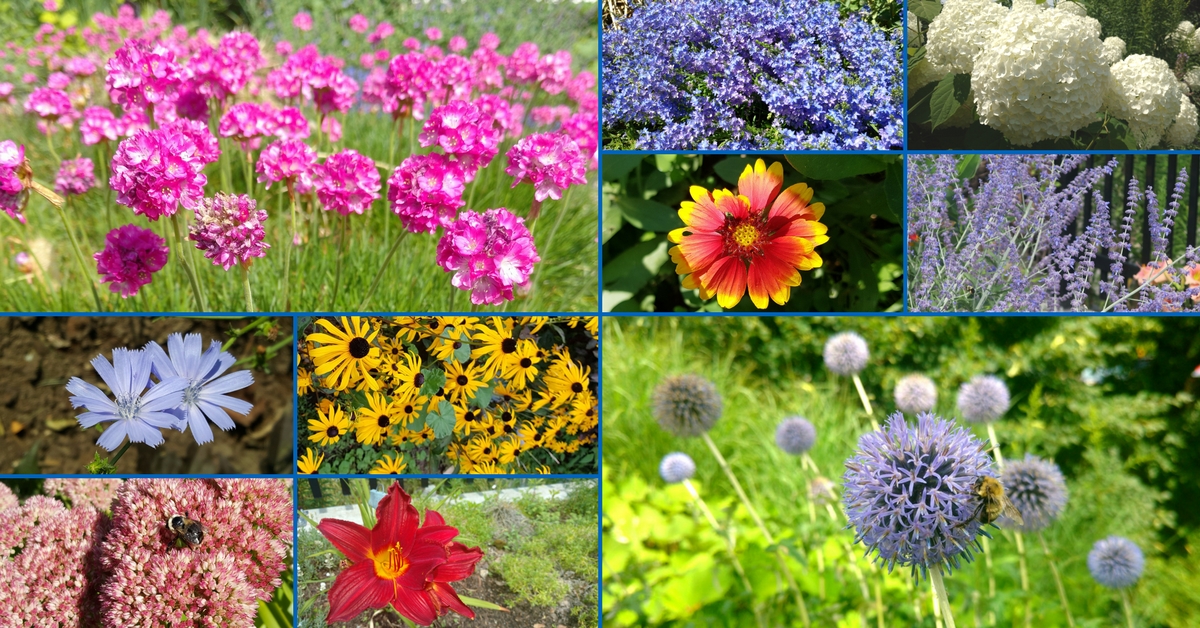 Some of the beautiful, hardy water-wise plants that grow in our Water Conservation Garden. From left to right:
Splendens Sea Thrift, Georgia Blue Speedwell, Hydrangea,
Blanket Flower, Russian Sage, Wild Chicory, Black Eyed Susan, Globe Thistle, Variegated Sedum, Hemerocallis.
Energy Efficiency: Electricity
Conservation is the cleanest and least costly way to increase electricity system capacity, while empowering customers to manage their electricity use and save money. It can extend the useful life of existing infrastructure and reduce the environmental impact of electricity distribution.
Since 2015, we have achieved 13,676,472 kWh of annual savings. That's 40 per cent of Kingston Hydro's 2015-2020 provincially-mandated electricity conservation target.
269
Customer Projects Funded
through Save On Energy
5,603,149 kWh
Saved Per Year
700
Enough to Supply 700 Average Residential Customers
Incentives of $795,995 Helped Realize
$6.6 million
in Customer Projects
30,898
Powerful Insights Reports
Delivered to Residential Customers

By helping customers access grants and incentives for conservation investments from provincial Save on Energy programs, Utilities Kingston actively invests in making local businesses more competitive and local homes more affordable to live in.
Powerful Insights
Powerful Insights™ reports are tailored to help customers find ways to improve energy efficiency by offering personalized information about their consumption. Due to our multi-utility model, we are unique in Ontario by offering both gas and electricity-saving opportunities in one report.
The reports include a comparison of a household's energy use to homes of similar size and heating source; calculated estimates of how much energy is being used by a customer's heating and cooling equipment, appliances, lights and electronics; and tailored energy-saving suggestions.
We're expanding the program. The number of Powerful Insights reports delivered over 2017 has increased by 67 per cent to 30,898. Over 6,000 out of 28,000 homes received quarterly reports, saving each household an average of $32 annually.
Energy Efficiency: Natural Gas
In 2017, we offered natural gas conservation incentives for the second year.
Incentives of $27,532 Helped Realize
$135,206
in Customer Projects
Stimulating the Replacement of
12 Boilers
6 Commercial Water Heaters
37,000 m3
Natural Gas
Saved Annually
Enough to Supply
16
Average Residential Customers
Also in 2017, Union Gas, in partnership with the Government of Ontario and Save on Energy, began offering the Home Reno Rebate program to Utilities Kingston gas customers, with 35 households participating.
Through this industry partnership, customers who heat their home with natural gas, propane, oil, wood or electricity may be eligible to receive up to $5,000 in rebates on home renovations, plus additional electric appliance rebates aimed at saving energy.

Proud to be Part of the Community
Our unique multi-utility model provides our customers with one-stop access to water, gas and electricity conservation programs. We are proud to partner with local businesses and institutions as we help build a better community.
In 2017, we applauded Queen's University's commitment to reduce energy and water consumption, and cut greenhouse gas emissions. Queen's' efforts to install water and energy conservation measures help extend the useful life of municipal utility infrastructure and further our progress towards meeting provincially-mandated electricity conservation targets. All this, while making a positive impact on the environment.
We were pleased to present $717,915 in incentives - provided in part through provincial Save on Energy programs that are powered by the Independent Electricity System Operator - for projects completed in 2017 that realized water and electricity savings.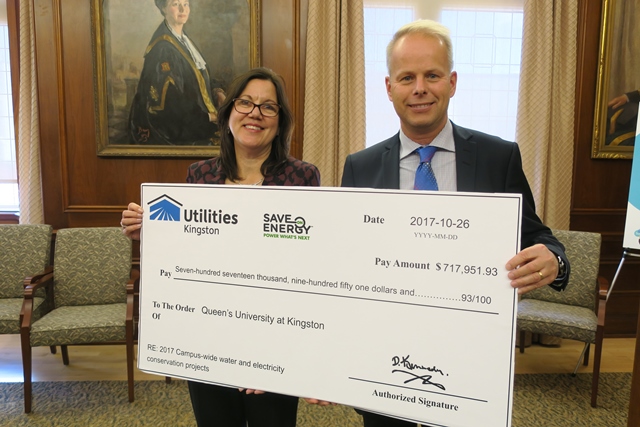 Here's how else our team engaged the community this year:

For one-on-one assistance to help save water, energy and money, contact our experts at
613-546-0000, and say 'conservation'.