2020 Achievements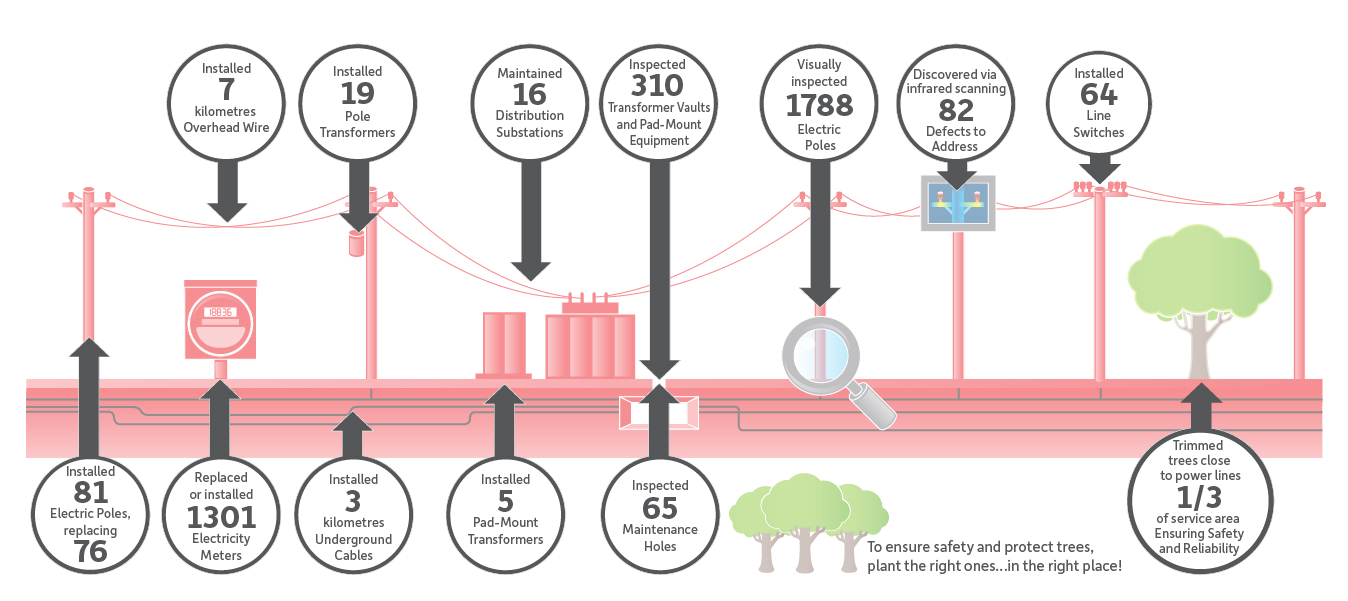 What's the context?

We've provided data on achievements in 2020. If you're looking for additional context on how much overall infrastructure we maintain, check out our overview infographics.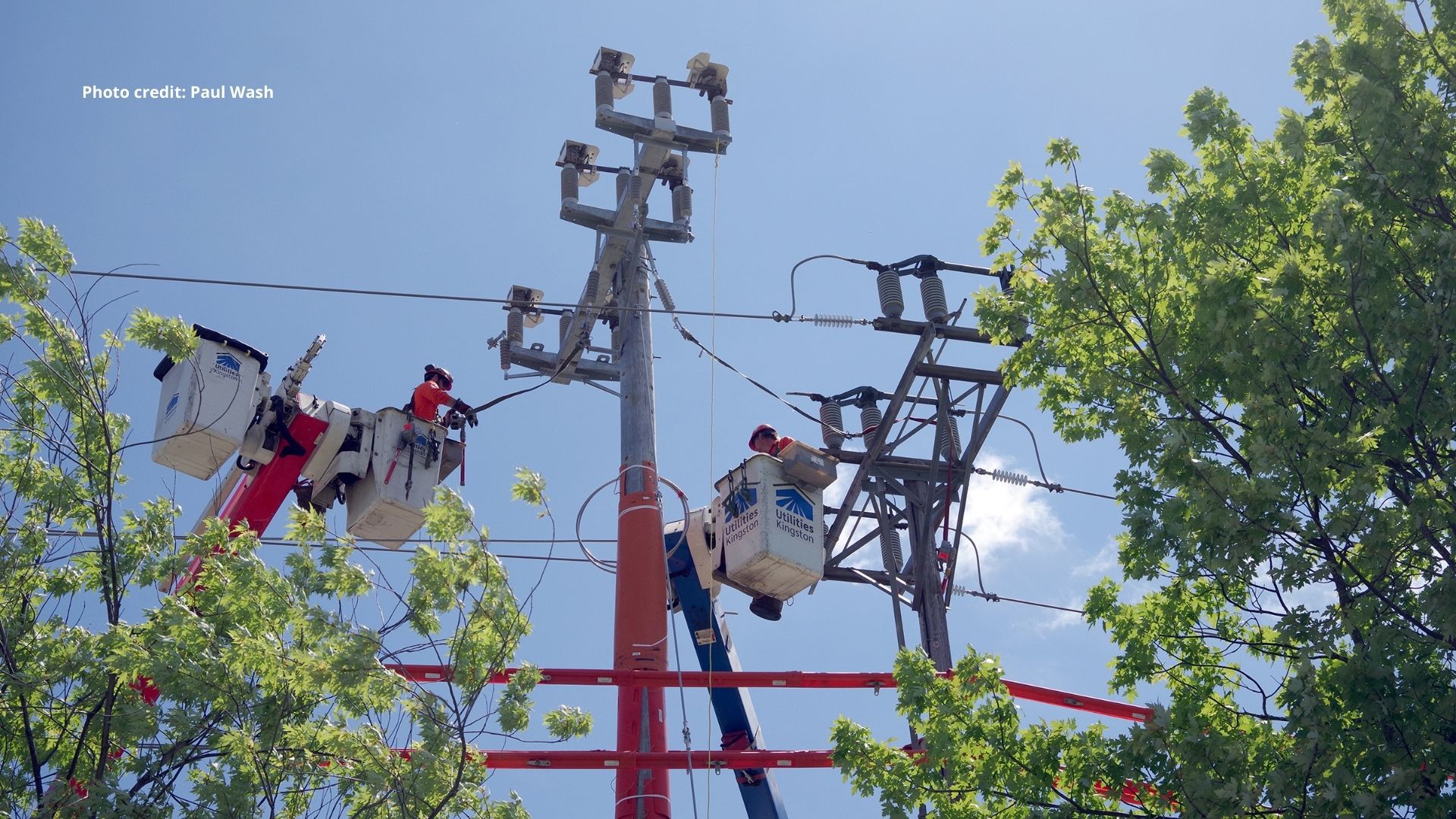 Overhead Work
Highlights in 2020 included:
12 new poles and three distribution transformers on Bath Road, from Grenville to Armstrong.

10 new poles and two distribution transformers on Johnson Street.

Seven new poles and two distribution transformers on Dalton Avenue. This work included an

additional circuit to provide critical back-up for substation maintenance.
Replaced 10 poles in the backyards of

Johnson Street and Watts Crescent.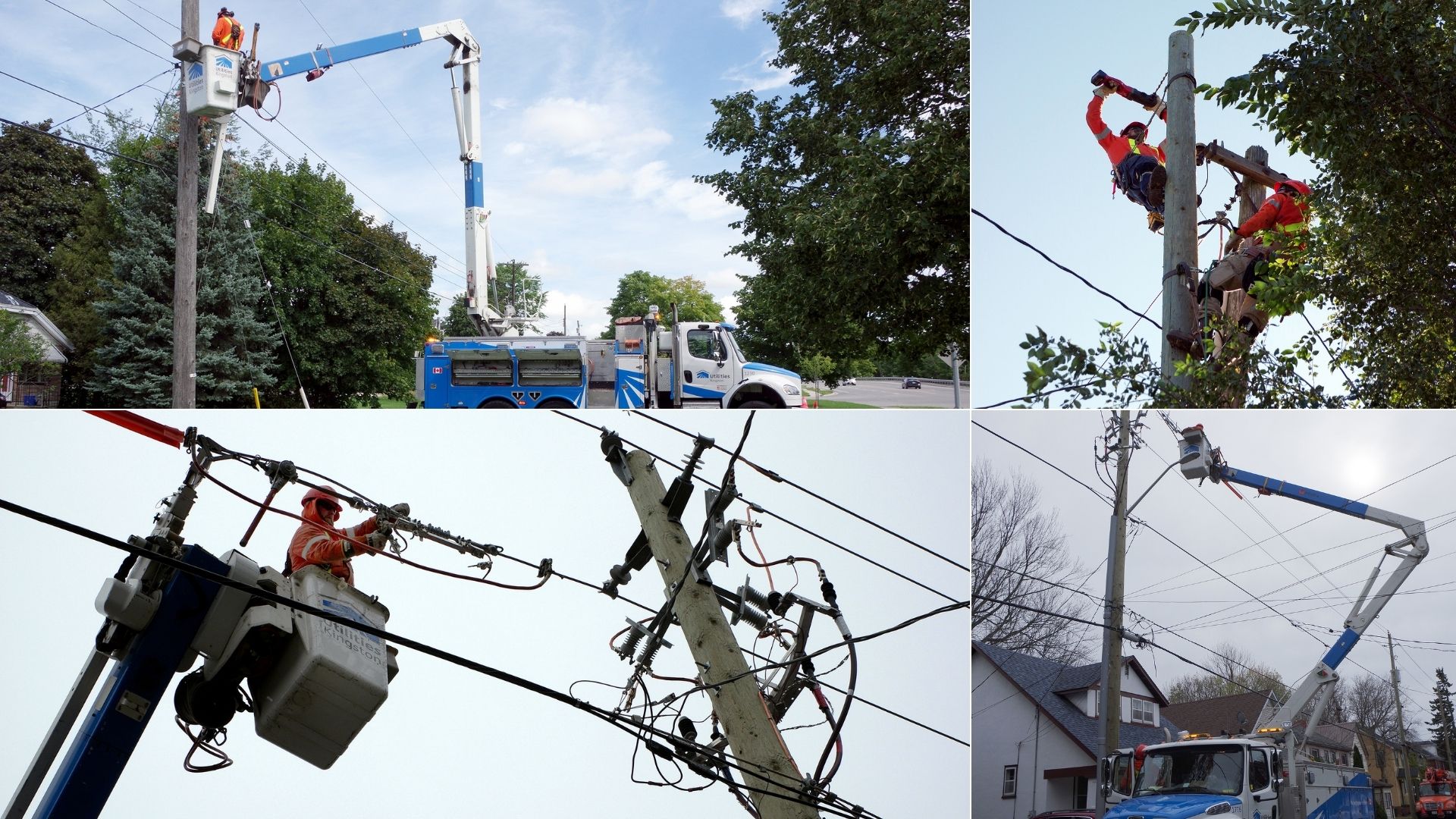 Substation Work
New equipment at Municipal Substation No. 1 is now in service
Municipal Substation No. 1 (MS1) is Kingston's oldest substation, located inside a heritage building on lower Queen Street, providing safe and reliable electricity service to the downtown core. Work is progressing as part of a multi-year project that was initiated in 2015 and is expected to be completed by 2023. The scope of work in 2020 included replacing 44 kV transformers, breakers and switches on the west bus and upgrading 44 kV west bus protection.
The following equipment has been installed, commissioned, and put into service.
Three of six power transformers.

Two 46 kV circuit breakers.

44 kV bus protection on the West Bus.

New heating and cooling system.
Preventative Maintenance
Our activities to operate, maintain and upgrade electricity distribution equipment help ensure power reliability for our customers. Preventative maintenance helps identify and address problems before they occur.
Visual Inspection
We service a total of 5,206 electric poles. Of these, we visually inspected 1,788 poles and related equipment, west of Sir John A. Macdonald Boulevard. Inspection results are assessed and used to help prioritize capital works.
Infrared Detection
Infrared scanning to proactively detect faulting electrical equipment was again performed on the entire 44 kV overhead sub-transmission network, one-third of the 5 kV overhead distribution network, 60 transformer vaults and at all 16 substations.
This preventative program has proven to be an efficient method to address problems before equipment fails and leads to unplanned outages.
A total of 82 defects were identified in 2020, fewer than the previous year. The findings assist with prioritizing operation and maintenance works.
Answering the Call to Help our Neighbours and Industry Partner
Our hydro crews assisted Hydro One with restoring power, after a severe wind storm in November of 2020. We are proud to support our industry partners in their times of need!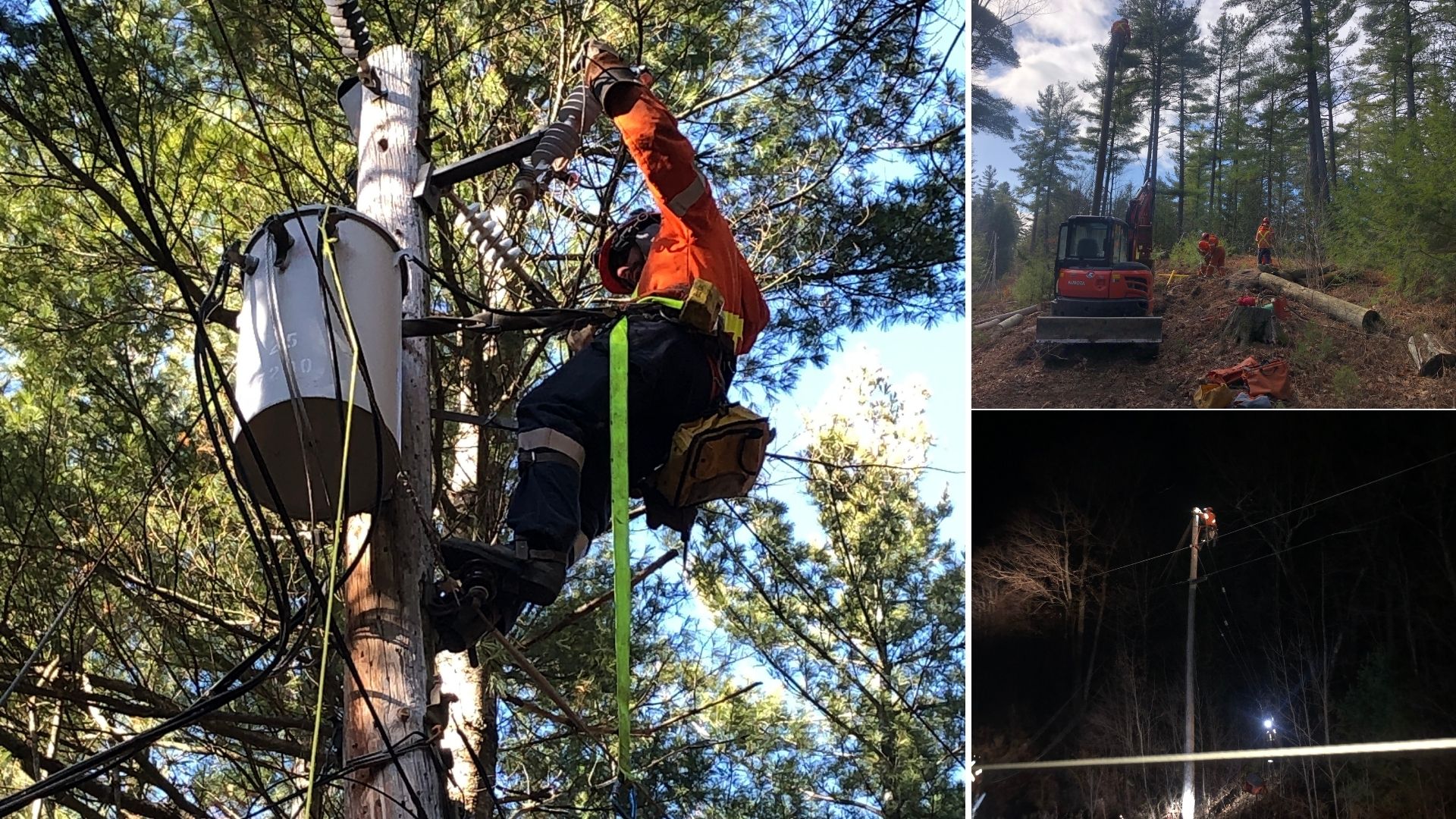 Regulation and Legislation
COVID-19 Assistance
In 2020, we were pleased to support our customers, as the Ontario Energy Board amended the licences of electricity distributors and unit sub-meter providers to require them to deliver the COVID-19 Energy Assistance Programs to eligible customers.
Throughout the year, we took steps to support our customers who were experiencing hardships due to the pandemic, including through the following measures:
Delivering the COVID-19 Energy Assistance Program and

COVID-19 Energy Assistance Program - Small Business

.
Extending payment arrangements for customers who are experiencing hardship and extending the water conservation rate.

Offering flexible payment terms and arrears payment agreements for water, sewer, gas and electricity bills, in order to provide customers with more time to pay outstanding balances on their account, if needed.

Supporting Ontario's decision to bill consumers on time-of-use and tiered electricity pricing at a fixed price during periods of provincial lock-down.
We remind our customers: if you are concerned about paying your bill, please contact us to extend payment arrangements. Contact our credit department using our online payment assistance form. A member of our team will review your request and respond by email or phone call, as quickly as possible. Alternatively, you can call us at 613-546-1181, ext. 2278, Monday to Friday from 8 AM to 4:30 PM.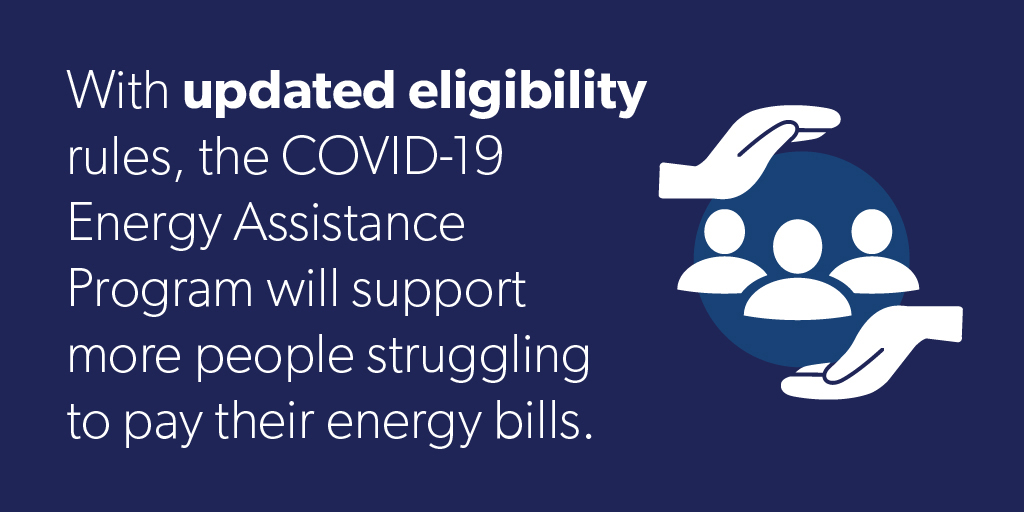 Audits
Each year, a mandated audit is conducted to assess our compliance with the main aspects of Ontario Electrical Distribution Safety Regulation 22/04. This third-party audit ensures that work being conducted by Utilities Kingston for Kingston Hydro is in accordance with construction and safety standards established through this regulation.
The 2020 audit determined that the company was in complete compliance with the relevant sections of the regulation. The auditor expressed appreciation for the high degree of professionalism exhibited by our staff.
Power Outages
Providing reliable electricity services to customers is important. When the power goes out unexpectedly, we work to restore power as safely and efficiently as possible.
Causes of Unplanned/Emergency Power Outages
Planned Events
To perform maintenance or ensure the safety of crews working on the electricity distribution system, portions may be de-energized for maintenance or work protection. As a result, some customers are affected by scheduled outages. In 2020, we scheduled 45 of these events, accounting for 7,146 total customer hours of interruption (TCHI).
Planned outages for equipment upgrades and maintenance were significantly decreased in 2020 due to the pandemic, as Utilities Kingston suspended some non-critical work to protect health and safety.
Unplanned Events
Unplanned or emergency outages in 2020 totaled 58, with 37,511 TCHI. Reliability performance was maintained to levels similar to previous years.
Causes:
Failing equipment continues to be the leading factor in forced outages and emphasizes the importance of continued investments in infrastructure renewal and targeted preventive maintenance activities.
Adverse weather account for 12 outages and 5,002 TCHI. These customer interruptions typically result from rain, ice storms, snow, winds, extreme temperatures, freezing rain, frost, or other extreme weather conditions.
Tree contact with wires caused 10 outages and 9,948 TCHI. Restoring outages due to tree contact typically involves clearing around the lines or tree removal, and the work often takes place in backyard areas with limited access.
Energy Efficiency
While most conservation programs were suspended in 2020 due to the COVID-19 pandemic, we delivered a smart thermostat program for our natural gas and electricity customers.
Eligible applicants received a $100 bill credit when they purchased and installed a smart thermostat.
A total of 67 customers participated, saving 56,213 kWh electricity and 1,005 cubic metres of natural gas.
This Save on Energy program was offered by Utilities Kingston and Kingston Hydro in collaboration with the Independent Electricity System Operator.

Electricity by the Numbers
28,051
Homes and Businesses Served
59 from previous year

682M
Total Consumption (kWhs)
5% from previous year
Power Outages
45
Scheduled

36 from previous year
58
Unplanned

21 from previous year
103
Total

57 from previous year
45K
Total Hours of Interruption
15K from previous year
Financials