What's the context?
In 2018, managers and supervisors completed 228 formal staff safety observations. That's 100 per cent of the required total. Two of these visits identified safety non-compliances and were addressed with the employees involved.
Health and Safety Awareness and Training
The Utilities Kingston health and safety management system helps to reduce accidents and injuries, ensures safe work environments, and furthers a culture of safety.
As part of this system, management provides health and safety training. Highlights for 2018 include the following:
72
Training Sessions
3120
Hours of Participant Training
228
Formal Staff
Safety Observation
In 2018, WHMIS 2015 came into force and all employees were trained on this system. We also focused on mental health first aid, mental health awarness, and working at heights training.
Making Safety the Top Priority at Kingston Worksites
The goal of the award-winning Safety Days is clear and simple: get everyone home safe every day. In 2018, 562 participants from 144 contracting firms were in attendance, growing from just 10 participants in 2005.
This innovative approach to promoting a culture of safety is recognized across Ontario, with several companies and municipalities now striving to model this event.
The 2018 keynote presentation was given by Bill Carr, who is known as a multi-media artist, actor, humorist, writer, speaker and social activist. For over twenty-five years, Bill has been making people laugh at what's trivial, while helping them think deeply about what counts. His presentation explores the ideas of complacency and how the brain operates when it comes to developing safe or dangerous habits.

Safety Leadership Award
Utilities Kingston received an annual Technical Standards & Safety Authority (TSSA) Safety Impact Award for 2018. The initiatives recognized by the award focused largely on safety leadership that supports contractor and public education and awareness. By increasing the knowledge in the community, Utilities Kingston promotes a culture of safety for Kingston.
The annual TSSA Safety Awards Program was established to acknowledge individuals and organizations that work in related regulated sectors and have made significant contributions to public safety in Ontario. Nominations are submitted to TSSA by external stakeholders. Recipients are honoured at TSSA's annual general meeting. Two award presentations were made, with the second award going to Joel Prouty, 1st Class Power Engineer at Shell Canada. Read about the 2018 safety awards, from the TSSA website.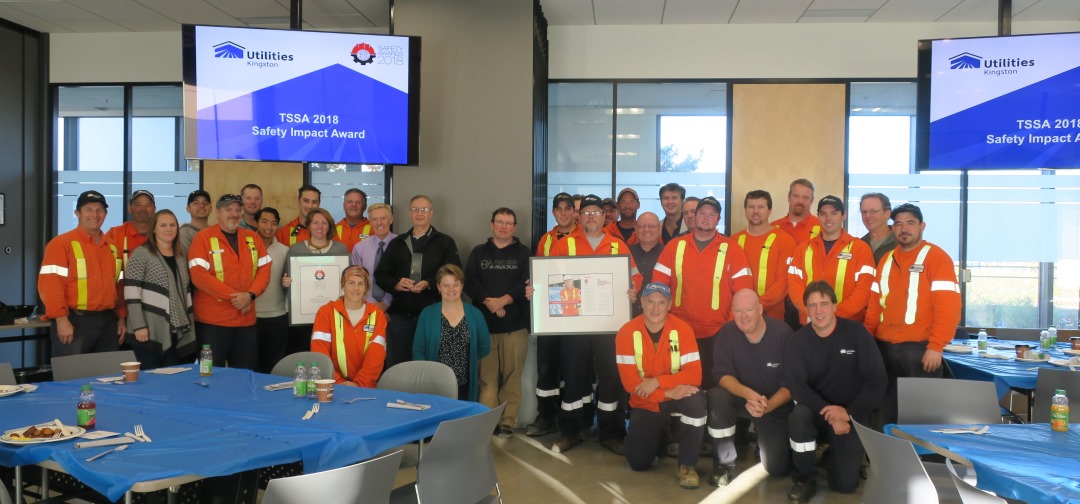 Cross Bore Prevention
In 2018, we conducted 150 sewer safety inspections and did not find any cross bore occurrences.
The cross bore prevention program is a requirement from the Technical Standards and Safety Authority (TSSA) that was mandated for all gas distributors in 2011. The program addresses safety precautions when clearing a blocked sewer lateral.
Utilities Kingston's program includes communicating with plumbers and homeowners to "Call Before You Clear". Once the call is received, staff conduct a sewer safety inspection to rule out the possibility of a sewer cross bore. Our communication and outreach program continues to increase public awareness.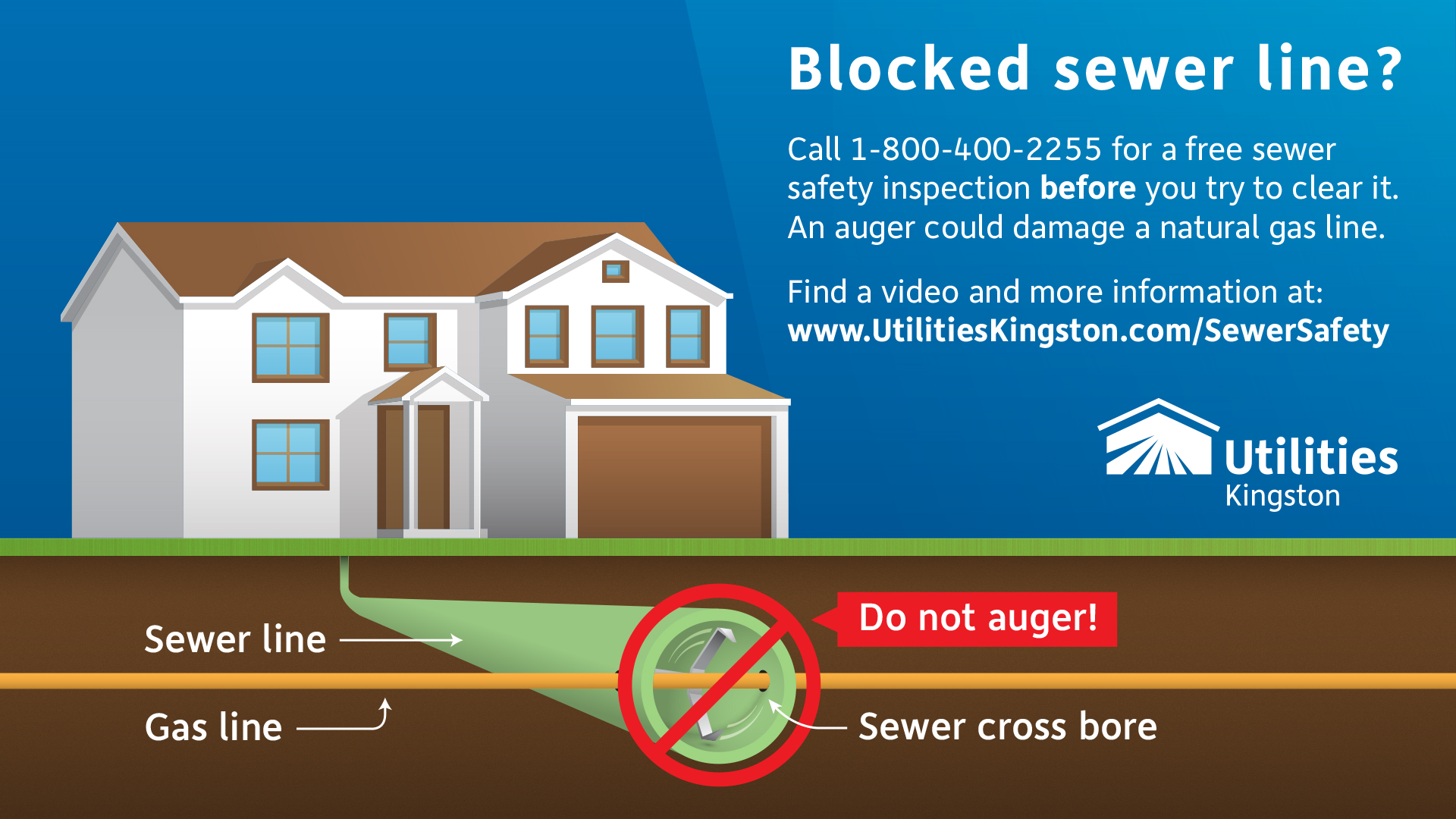 Wellness Day
The annual Wellness Day event allows all employees an opportunity to speak with wellness providers in the local community in order to assist them in living a healthy lifestyle.
Twenty-four vendors took part in the 2018 event, sharing their health and wellness message with employees. Topics included:
E

mployee benefits

Hearing tests

Blood pressure checks, and glucose screening

Physiotherapy assessments
Summer Safety Days
Our skilled trades people connected with local young people to stress the importance of safety when playing outside.
The 2018 Summer Safety Days event brought together over 1,200 grade 7 and 8 students from the Kingston area to learn about safety over five days. Students participated in an electrical safety presentation by Utilities Kingston employees. This presentation highlighted safety hazards associated with overhead and underground electrical lines.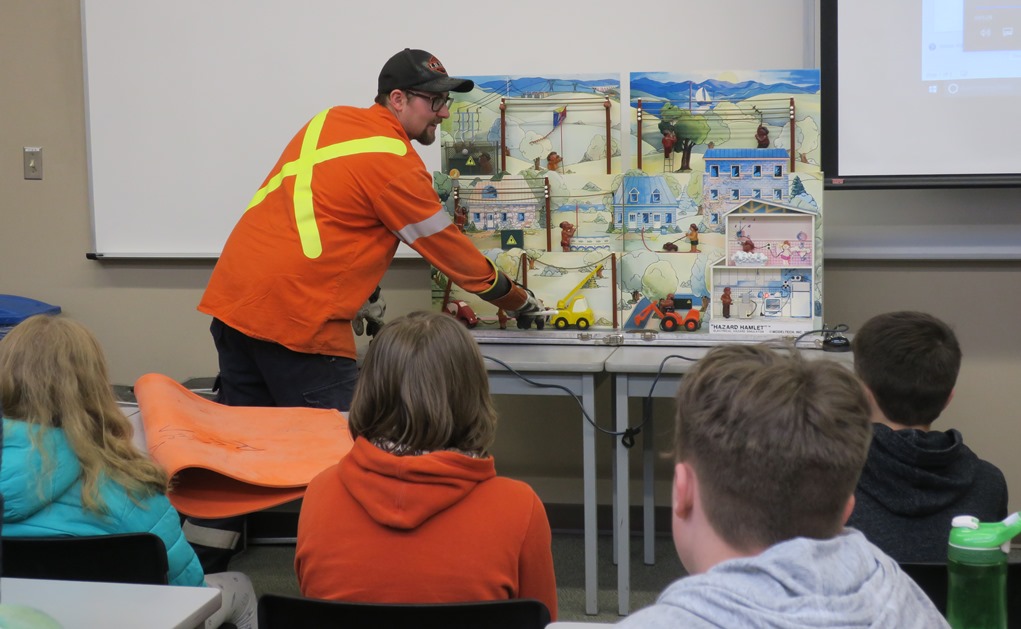 Ensuring the Safety of Underground Infrastructure
8040
Locate Requests
98%
Completed Within 5 Business Days
Utilities Kingston has participated in ON1Call since 2013. During 2018, Utilities Kingston responded to 8,040 locate requests. Our goal is to complete locates within five business days. We achieved this 98 per cent of the time.
Don't take the risk of damaging underground infrastructure – get a free locate, it's the law! That is the industry refrain that's helped encourage an increase in requests to locate underground water, sewer, gas, electricity and fibre infrastructure.