Water Efficiency
Water conservation extends the life of municipal infrastructure, allows for population growth, and reduces the cost of treating and pumping water and sewage. Our water conservation programs empower families and businesses to save money, reduce the environmental impact of utility services, and help home owners manage excess water on their properties.
2018 Achievements
Utilities Kingston conservation experts work directly with commercial customers to identify and fund conservation investments.
$133,613 for
6 Customer Projects Stimulated
$796K
in Local Conservation Work
31,501 m3
Water & Sewage
Saved Annually
107
Enough to Supply 107 Average Residential Customers
Two large customer projects that removed 16 open loop fridges and freezers, alone created water savings of 24,640 cubic metres.
Rain Barrel Program
In its twelfth year, our rain barrel program continues to be popular with our community.
Watch our video to learn more.
Rain barrels help protect the environment by reducing the amount of treated lake water used for watering plants and lawns, diverting significant quantities of rainwater from the sewer system during storms. They help conserve energy by reducing the amount of water and wastewater that needs to be treated and pumped.
2018 results: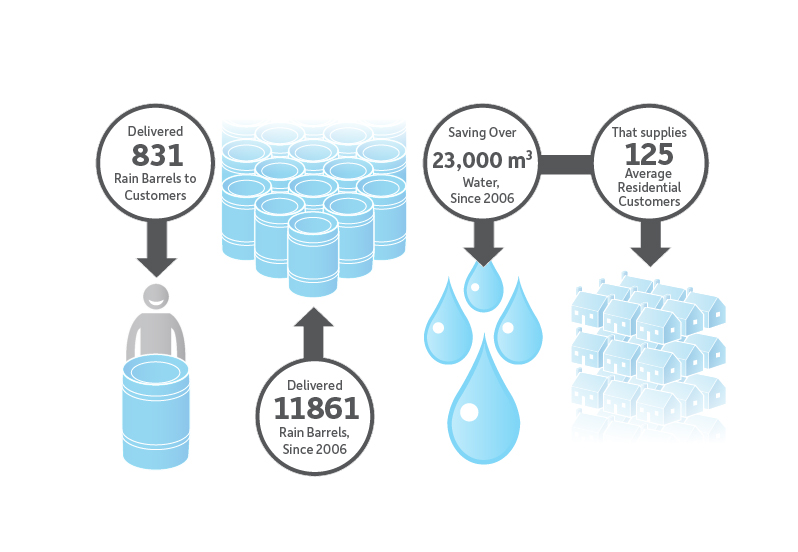 Water Conservation Garden
Featuring native, water smart plants and sustainable gardening tips, this inspiring space provides public education on how to use less treated water on lawns and gardens during summer peak consumption times. You can enjoy a beautiful and low maintenance garden.
We'd love to see you at our award-winning water-wise garden! Join us in the summer months for a free tour and children's activities, weekdays at 10:30 AM.
In 2018, we hosted 150 visitors to the garden, including participants of four Everything Drainage Workshops. Participants learned to manage excess water on their property, prevent basement flooding and comply with the City of Kingston's Sewer Use Bylaw.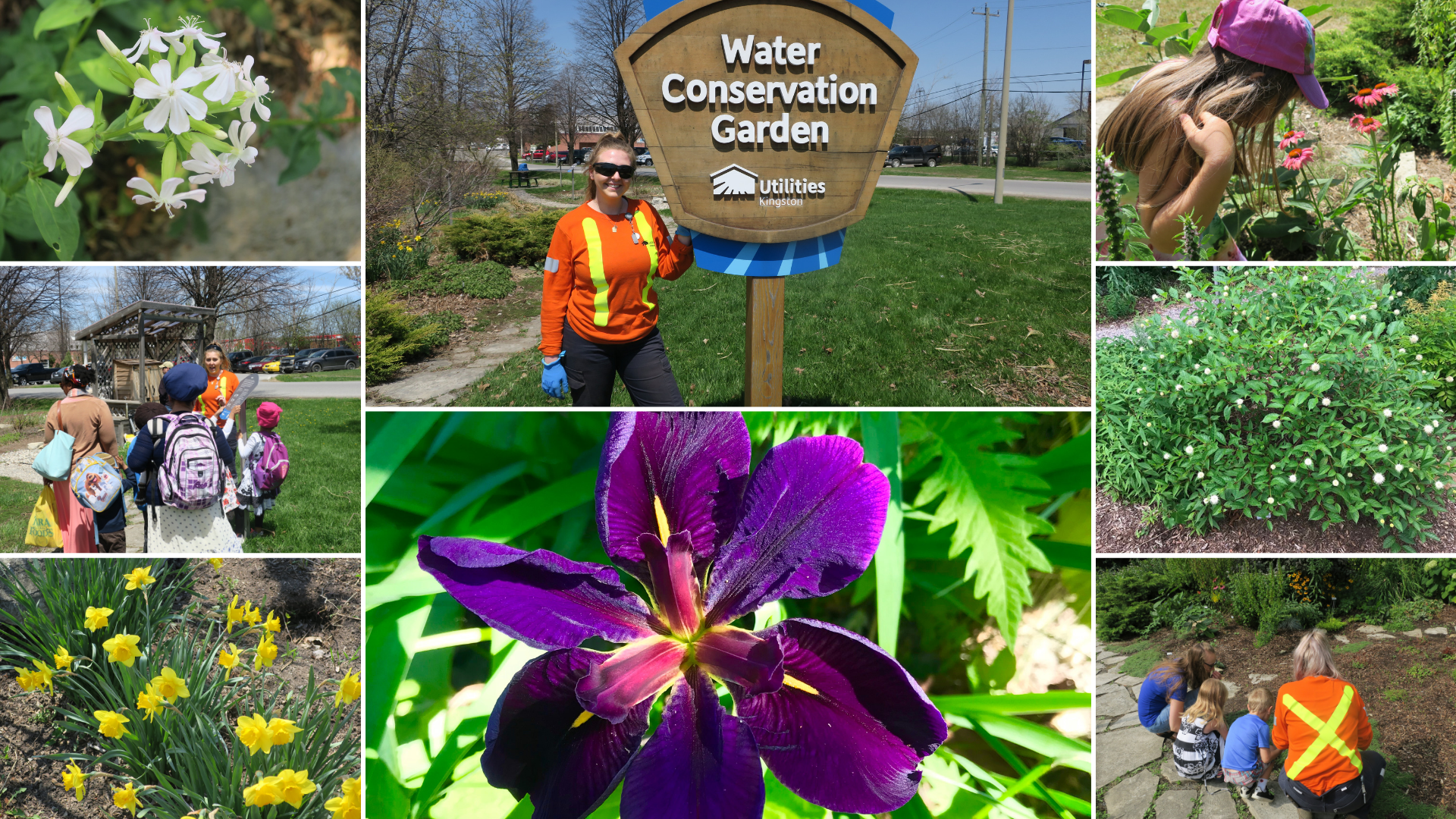 Energy Efficiency: Electricity
Conservation is the cleanest and least costly way to increase electricity system capacity, while empowering customers to manage their electricity use and save money. It can extend the useful life of existing infrastructure and reduce the environmental impact of electricity distribution.
From 2015 to 2018, Utilities Kingston and its electricity customers have saved an average of nearly 7M kWh/year – or enough to power 2,288 homes. Highlights in 2018:
103
Customer Projects Funded
through Save On Energy
2.9M
kWh
Saved Per Year
316
Enough to Supply 316 Average Residential Customers
Incentives of $743,029 Helped Realize
$2.5

M
in Customer Projects
23,970
Powerful Insights Reports
Delivered to Residential Customers

By helping customers access grants and incentives for conservation investments from provincial Save on Energy programs in 2018, Utilities Kingston actively invested in making local businesses more competitive and local homes more affordable to live in.
Powerful Insights
Powerful Insights™ reports were tailored to help customers find ways to improve energy efficiency by offering personalized information about their consumption. Due to our multi-utility model, we were unique in Ontario by offering both gas and electricity-saving opportunities in one report.
The reports included a comparison of a household's energy use to homes of similar size and heating source; calculated estimates of how much energy is used by a customer's heating and cooling equipment, appliances, lights and electronics; and tailored energy-saving suggestions.
In 2018, we delivered 23,970 Powerful Insights reports to over 5,600 homes, saving each household an average of $39 annually.
Energy Efficiency: Natural Gas
In 2018, we offered natural gas conservation incentives for the third year. Since the inception of gas incentives in mid-2016, we have helped support nearly $1.5M in investments.
Incentives of $24,536 Helped Realize
$

896K
in Customer Projects
Stimulating the Replacement of
12 Boilers
5 Commercial Water Heaters and Weatherstripping
121,585 m3
Natural Gas
Saved Annually
Enough to Supply
52
Average Residential Customers
New in 2018, six commercial customer projects took advantage of incentives to upgrade weather stripping, accounting for 41,218 cubic metres of natural gas saved.
Also in 2018, Union Gas, in partnership with the Government of Ontario and Save on Energy, began offering the Home Reno Rebate program to Utilities Kingston gas customers, with 23 households participating.
In this program, which has now ended for Utilities Kingston customers, home owners who heat their home with natural gas, propane, oil, wood or electricity were eligible to receive up to $5,000 in rebates on home renovations, plus additional electric appliance rebates aimed at saving energy.

For one-on-one assistance to help save water, energy and money, contact our experts at
613-546-0000, and say 'conservation'.