Protect Your Home and Treatment Equipment
Wastewater treatment equipment is designed for toilet paper and human waste. Items like fats, oils, greases, feminine hygiene products, and wipes of any kind should never be flushed down the toilet or poured down a drain. Flushing these items causes equipment to fail, poses a health and safety risk to staff – and can even put your home at risk of sewage back-ups.
Fats, oils and greases clog pipes! Avoid a sewer back-up in your home. Pour cooled grease, fat, or lard into a paper cup. Let the material solidify and then place it in your Green Bin. Learn more from these pages: fats, oils, and greases – for residents, and fats, oils, and greases – for restaurants.
The top problem-causing things that should never be flushed or poured down a drain
Fats, oils, and greases
Feminine hygiene products
Wipes of any kind
Dental floss, needles, or hair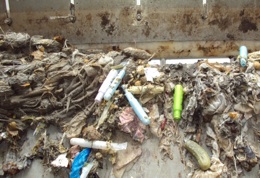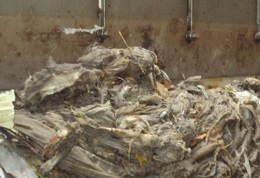 Wastewater Services
Utilities Kingston delivers multiple utility services including water, wastewater, gas and electricity. We provide safe and reliable wastewater services to 37,000 homes and business, while minimizing impact on the environment. We maintain 490 kilometres of sanitary and combined sewer main, 6,353 maintenance holes (man holes), 37 sewage pumping stations (that lift sewage so it can be moved by gravity to the treatment plants), nine combined sewer overflow tanks (that help keep sewage out of our waterways during a storm), and three wastewater treatment plants.
The Problems
When people flush or pour items other than toilet paper and human waste, there are three main problems that occur:
Sewage back-ups in homes: Wastewater treatment infrastructure is designed for toilet paper and human waste only. Most items not intended for the sanitary sewer may cause a blockage of the sewer, most likely in your own plumbing, simply due to size, mass, or the inability to break down.

Environmental impacts: Many liquids other than water or human waste as well as chemicals may have serious environmental impacts on our lakes and streams in terms of water quality. This is because the treatment process is not designed for them.

Failed equipment: Flushing items other than toilet paper and human waste causes wastewater treatment equipment to fail, posing a health and safety risk to staff.

Here are some of the common problems that occur:

Grinders can get jammed

Pumps can get plugged up

Screens can get clogged
When wastewater treatment equipment fails, part of the pumping station or treatment plant has to be shut down. Operators have to physically remove materials that may be clogging the equipment, which poses a health and safety risk (including for example, hepatitis, bacterial infections, hypodermic needles, and slips and falls).
Learn more about wastewater treatment at the Ravensview Wastewater Treatment Facility or
the King Street Water Treatment Plant. You can arrange a free public tour by calling 613-546-0000.
Sewer Use By-law
Pools and Spas
When closing a swimming pool, hot tub, or spa for the season, make sure that you comply with the "Sewer Use By-law". In particular,
drain salt water pools to the sanitary system connection on your property
ensure that chlorinated water does not enter either the sanitary or storm sewer systems until it has been de-chlorinated
By-law No. 2008-192, "The Sewer Use By-law" regulates all discharges into the sanitary and storm sewer systems. It outlines specific limits and controls the concentration of various substances such as heavy metals, toxic waste and nutrients that are being put into our sewers.
The by-law helps protect the health and safety of our employees, the environment, and municipal infrastructure.
Learn More
Explore the following web pages to learn what you can do you can help protect your home or business from sewage back-ups and prevent breakdown of wastewater treatment equipment.
also see Get the Facts on Basement Flooding