2018 Gas Main Replacement Project
Project Background
Utilities Kingston will commence its annual gas main replacement work beginning this summer and continuing into the fall. This year, work will take place in two separate areas:
Area 1:
King Street, from McDonald Avenue to Church Street, will receive renewed gas infrastructure. This project is being undertaken in advance of the Portsmouth Pumping Station Redirect and Trunk Watermain and will enable that project to proceed without significant interruptions to gas service for customers in the area.
Area 2:
Gas main along Princess Street, from Sir John A MacDonald Boulevard to Hillendale Avenue, as well as Princess Street from Parkway to Portsmouth Avenue.
The purpose of this project is to replace aging infrastructure to ensure safe and reliable distribution of natural gas to our customers. Each year, Utilities Kingston replaces infrastructure based on pipe condition assessment and maintenance requirements, in coordination with city-wide road reconstruction priorities to determine which areas will be replaced.
In order to minimize traffic impacts at this key location, trenchless (no-dig) technologies will be used to the greatest extent possible. Traffic updates will be communicated through Twitter @UtilitesKngstn closer to the time of construction.
Planning
A Public Information Session (Open House) will be scheduled prior to construction. Please feel free to pop in to recieve information about the project and how it may a impact your residence or business. Any questions can also be directed to the contact information below.
Design and Construction
Work will involve open cut trenching to install replacement pipe along the routes shown in the map above. Generally, the trench will be located at or near the edge of the asphalt or sidewalk. As we work along the street, several driveway crossings will be required, but businesses will have access to their parking lots at all times. All roads and driveways impacted due to construction will be repaired in accordance with City of Kingston roadway standards.
Emergency services, and garbage/recycling pickup schedules will not be impacted by this work and will operate normally during construction.
If you live within the construction area, your building may require a new service line. Service replacement will only be done where required and all restoration of the landscaping will be done at no cost to you. Service interruptions will also be required for these replacements and Utilities Kingston will be in touch with you if such an interruption is required. All interruptions will be extremely brief, typically less than thirty-minutes, and will be coordinated with you by Utilities Kingston staff.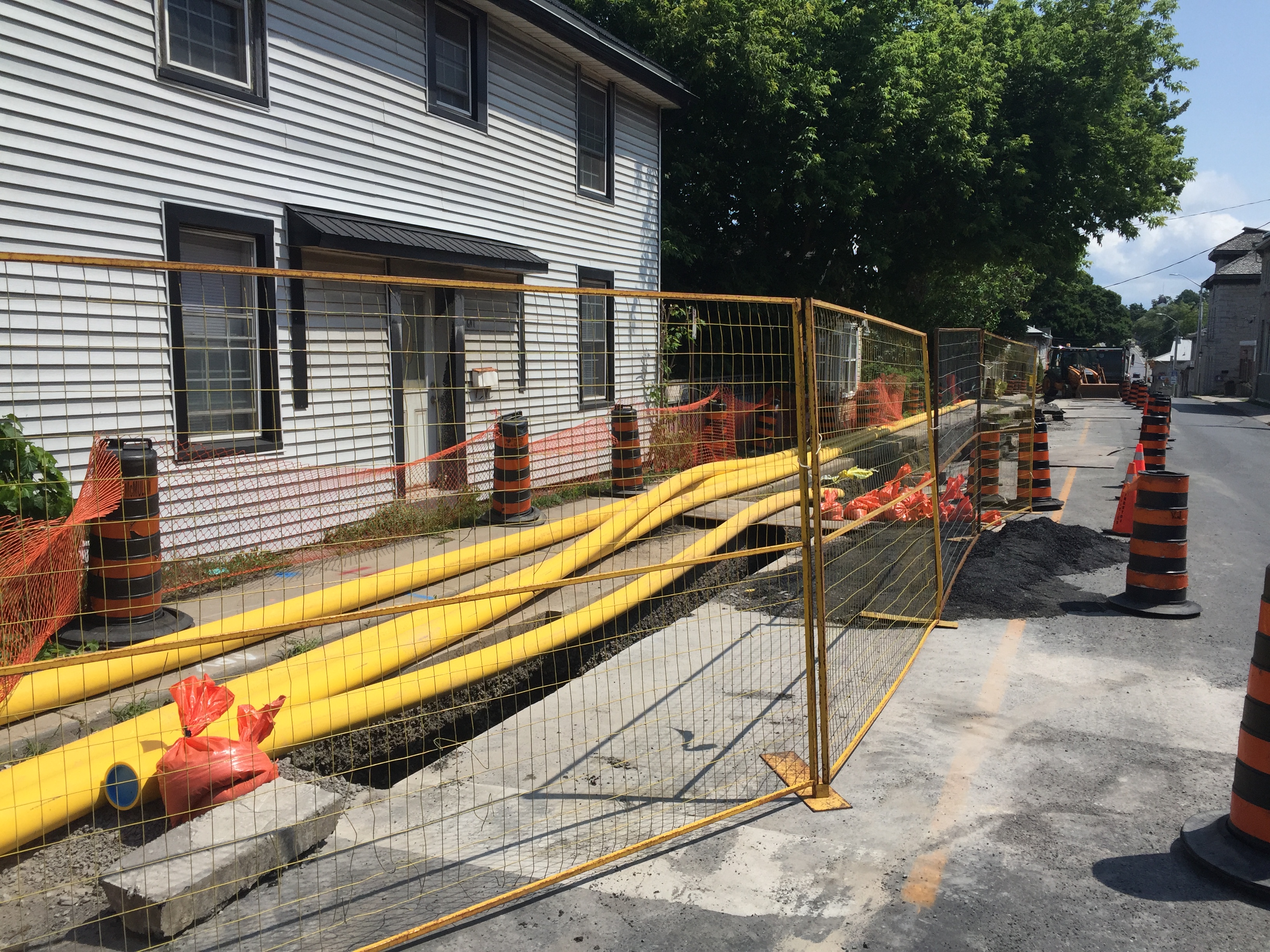 UPDATE November 4th: Work on Princess near Hillendale is nearly complete. Final tie overs of affected customers are currently underway meanwhile traffic impacts in this area will be done to permit final asphalt. Next week crews will be working in the intersection of Portsmouth and Princess which will be the last bit of in-road work for 2018. The project is expected to be complete by mid-December.
Schedule and Project Downloads
The approximate schedule for this project is as follows.
Approximate Schedule for this Project:
Activity:
Time Frame:
Detailed design phase
Q1/Q2 2018
Public Information Center (Open House)
June 27th 5:00pm - 7:00pm
Construction

Start: July 3rd 2018

End: mid-December 2018
Contacts
For further information or to provide comments on the 2018 Gas Main Replacement Program, or if you wish to be added to the stakeholder contact list, please contact Utilities Kingston as follows:
Utilities Kingston
David Fegan, P.Eng
Utilities Engineer
85 Lappan's Lane
Kingston, ON K7L 4X7
Office: 613-546-1181, extension 2302
Email:
dfegan@utilitieskingston.com