Stop, look, live, and avoid deadly distractions: Powerline Safety Week is May 11-17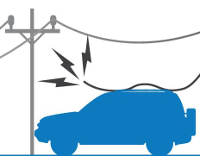 Warmer weather brings with it an abundance of outdoor projects, from pruning trees to clearing eavestroughs. Outdoor work can be hazardous. May 11 to 17 is Powerline Safety Week, and the Electrical Safety Authority (ESA) and Utilities Kingston are urging residents and contractors to combat deadly distractions by practicing three critical steps: stop, look and live.
This year, COVID-19 has forced many residents to stay home. More people than usual have the flexibility to pursue outdoor improvement projects, and this comes with increased risk. It is as important as ever for people to remain vigilant and exercise caution when working near powerlines, particularly by staying at least three metres away at all times.
Whether you are doing yard work at home or you are a construction worker on a jobsite, powerline safety is a collective responsibility. Everyone has a part to play. Distractions can be deadly, and a life-threatening injury or fatality can occur in the blink of an eye.
Facts, from ESA:
Overhead powerline contact was the leading cause of electrical incidents between 2009 and 2018. Nineteen Ontarians have lost their lives in powerline-related incidents since 2009.

Construction workers and high reach equipment operators are particularly exposed, with occupational fatalities accounting for 63 per cent of powerline deaths occurring in Ontario in the last decade.

Electricity can jump or arc from powerlines to nearby objects, including people or tools. You don't need to contact them.
That's why we're encouraging everyone to practice powerline safety, reminding you to stop, look and live.
Stay away fr

om downed powerlines

Downed powerlines can be deadly! If you see one, assume it still has electricity flowing through it, even if it isn't sparking. Stay at least 10 metres (the length of a school bus) away and call 9-1-1 immediately. Then call Utilities Kingston's emergency line at 613-546-1181. This line is answered 24 hours a day, seven days a week.

If a downed powerline falls on your car, do not leave the vehicle. The ground around it may be electrified and you could be killed if you get out. Stay inside until utility workers tell you it's safe to get out. Tell everyone to stay back 10 metres or 33 feet. Learn more about electrical emergencies.
Stop, look, and live: powerline safety tips for households
Below are some powerline safety tips to help you stay safe as you work around your home and play outdoors.
Distractions can be deadly.

Outdoor work is rewarding, but it can also be deadly. Before you start any outdoor work, locate all overhead powerlines. Be especially aware of powerlines that may be hidden by trees. Check for powerlines before cleaning eavestroughs or pruning trees.



Stop, look, and live. Stay three metres back.

Always be aware of your surroundings. You do not have to touch a powerline to get a deadly shock. Electricity can jump or "arc" to you or your tools if you get too close. Have someone watch to make sure you and your tools stay at least three metres back from powerlines.



Plant trees away from overhead powerlines.

Avoid problems down the line by determining how large the tree will grow and planting it a safe distance away, so branches don't come close to a powerline. If your trees are in close proximity to powerlines, contact your local utility or a utility arborist. Do not prune or remove trees around powerlines yourself and always carry your ladder sideways – never upright!

Look up and look out for overhead powerlines before putting ladders up.



Call or click before you dig

. Before you start a landscaping project such as building a fence, deck or planting trees,

call Ontario One Call at 1-800-400-2255

. They will locate all utility-owned underground infrastructure so you can protect your loved ones and your property.



Talk to your kids about powerline safety.

Help children find safe places to play, away from utility poles and powerlines. Remind children never to climb trees or fly kites near powerlines. Make sure they look closely, since leaves and branches can hide the wires. Kids should not play on green boxes on lawns or in parks.
Children should be reminded: if you see equipment with open doors or other issues, tell your mom and dad and have them report it to us by calling our emergency line at 613-546-1181. This line is answered 24 hours a day, seven days a week.
Visit the ESA's website for more information about powerline safety, including tailored tips for homeowners, construction workers, dump truck operators and arborists.
Find more information on powerline safety.