Power restored to Central Kingston, intermittent outages possible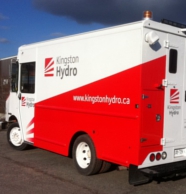 Utilities Kingston has now restored power to 10,000 customers in central Kingston following a 5:45 a.m. outage that has been linked to issues with customer-owner equipment. Power was restored by 8 a.m. to all but one customer, which remains without power and has multiple facilities affected.
Customers in Central Kingston should expect intermittent outages today as we continue to work with our customer to make repairs.
Unfortunately, we experienced some coincidental technical issues with our outage map (at https://utilitieskingston.com/Outages), which led to phone lines becoming overwhelmed during the outage.
"Sharing accurate and reliable information during utility emergencies is important for the health and safety of our community and we take it very seriously. We apologize for the frustration caused by the unavailability of our outage map and phone systems this morning. We're doing everything we can to identify and correct the issue, and will provide updates when available," says Jim Keech, President and CEO of Utilities Kingston.
Until the outage map is restored, please follow @utilitieskngstn on Twitter or like us on Facebook, and check this website for regular updates. We are investigating the outage map issues with our supplier and will provide a status update as soon as possible. Read more about the outage map issue.