Power outage set on Princess Street in city central for necessary maintenance identified using infrared scanning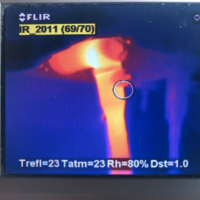 Electricity customers in the area listed below will be affected by a power outage on Wednesday, July 21.
Customers in this area will experience 15-minute outages starting at 5 a.m. and then again before 7 a.m.
Princess Street between Macdonnell and Tower Streets.
Two buildings in this area will also be affected by a two-hour power outage, and these customers have been notified directly. A map of the affected area will be made available on our outage map.
We conduct an annual infrared scanning program to proactively detect faulting electrical equipment on the entire 44 kV overhead sub-transmission network, one-third of the 5 kV overhead distribution network, at transformer vaults and at all 17 substations.
This preventative program is an efficient method to address problems before equipment fails and leads to unplanned outages. The scanning has detected an equipment issue in a transformer vault. This repair will help ensure the continued reliability of electricity services to our customers. For the safety of utility crews, equipment must be de-energized to complete the work.
We apologize for the inconvenience caused by the power outage. For more information, please call customer service, Monday to Friday, from 8 AM to 5 PM, at 613-546-0000.