Planned power outages set for University and Sydenham Districts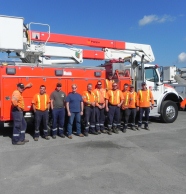 Electricity customers in the University and Sydenham Districts listed below will be affected by a planned power outage on Tuesday, Sept. 17.
Customers in these areas will experience a five hour outage starting at 9 AM:
MacDonnell Street between Union and Hill

Union Street between Ellerbeck and Kensington

Centre Street

Edgehill Street

Collingwood Street south of Union

Queen's Crescent

King Street West between Albert and Lower University
Willingdon Avenue and Hillcroft Drive are no longer affected by this outage.
For a more detailed map of the affected area, check the 'SCHEDULED' area of our outage map.
This power outage is necessary for workers to conduct tree trimming around the high voltage overhead lines in your area, on behalf of your electricity distributor, Kingston Hydro Corporation.
We apologize for any inconvenience. This work helps to ensure a reliable source of electricity to you, our customers. For more information, please call the Customer Service Centre at 613-546-0000.