Postponed: Planned power outage set for University District July 8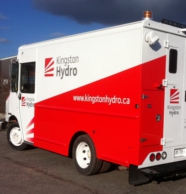 ** Due to the high heat, this power outage has been postponed. There will still be a power outage for 329 Earl St. today. We will communicate the new date soon. Sorry for any inconvenience. **
Utilities Kingston electricity customers in the University District area listed below will be affected by a planned power outage on Wednesday, July 8, 2020.
Customers in these areas will experience a six-hour outage starting at 9:00 a.m.:
Union Street, between Hillcroft and Frontenac

Beverley Street

Vandalay Crescent

Kensington Avenue

Centre Street

Edgehill Street

Collingwood Street, between Earl and King St. West

Couper Street

Queen's Crescent

Bader Lane

Stuart Street

St. Lawrence Avenue

Albert Street, between Earl and King St. West

Frontenac Street, between Johnson and Union

Earl Street, between Albert and Alfred
More information is available on our outage map.
This power outage is necessary for workers to trim trees around the high voltage overhead lines in the area, on behalf of electricity distributor, Kingston Hydro Corporation. To ensure worker and public health and safety, and to meet regulatory requirements, we contract trained arborists to trim the trees in the entire Kingston Hydro distribution area over a three-year period. Learn more.
We apologize for any inconvenience. This work helps to ensure a reliable source of electricity to you, our customers. You can count on us!
For more information, please call customer service, Monday to Friday, from 8 AM to 5 PM, at 613-546-0000.