New system helps to improve accuracy and timeliness of power outage information
This article was published more than 6 months ago. Some information may no longer be current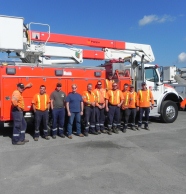 Utilities Kingston has implemented a new outage management system (OMS) to help further improve addressing and communicating power outages.
The SurvalentONE OMS pinpoints both planned and unplanned power outages, providing accurate and timely information, both for the public and for crews as they work to restore power.
Bottom line: this will help us get more accurate power outage information out faster to our customers and enable our crews to restore power more quickly, with a goal to reduce the length and disruption of outages. We also intend to evaluate the use of the technology for water and natural gas service interruptions – one of the advantages of our multi-utility model. We are working hard to improve the delivery of utility services, for now and in the future!
The OMS is integrated with our monitoring and control system, geographic information system, customer information system and metering infrastructure. The system advises operators of an outage, based on the status of smart meters or other monitored devices. Verified outages are posted to the map at https://Power.UtilitiesKingston.com/Outages
If you experience a power outage, check the new Utilities Kingston outage map to see if it is displayed. If your outage is not shown – or if you have additional information to share (for example, about sparking equipment or downed lines and wires) – please call our 24-hour emergency line at 613-546-1181. Operators will use your information and OMS to respond as quickly as possible.