Make the right call to identify and report a utility emergency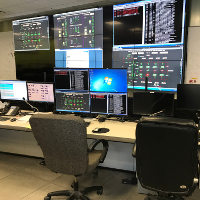 Utilities Kingston is urging residents: know your electricity provider so you know who to call in the event of a power outage or other electricity emergency. We are also concerned with residents reporting potentially life-threatening emergencies using email or social media.
This is about making the right call
We proudly serve customers in our distribution area, but there are parts of Kingston that are served by other utility providers. It's important to know your provider and to know who to call in case of a power outage or other utility emergency. We want to help people understand how to identify a serious or life-threatening emergency, and that our 24-hour emergency phone line is the safest way to report it, in our area.
Who provides your electricity?
Kingston is primarily served by two electricity providers – Utilities Kingston and Hydro One. A small number of homes and businesses in Kingston East and north of the 401 receive their services from Eastern Ontario Power.
In the event of a power outage:
Utilities Kingston customers – check our Outage Map or call 613-546-1181 anytime.
Hydro One customers – check www.hydroone.com/StormCenter, text WATTS (92887) or call 1-888-664-9376.
Eastern Ontario Power customers – call 1-844-601-9473.
To see if you are in Utilities Kingston's service area, use the address look-up tool. Utilities Kingston's electricity customers are in Central Kingston, Barriefield and CFB Kingston. If you are not in Utilities Kingston's area, check your electricity bill or view a map of electricity service areas in Kingston.
Always call to report a utility emergency
Utility issues could create a serious safety hazard. Always call – and NEVER email or use social media – to report a utility emergency. Here is a list of who to call:
If you see a downed power line or other life-threatening situation, call your electricity provider's emergency line or 9-1-1.
Tree branches on power lines, open utility boxes and damaged hydro poles could all create serious safety risks and should be immediately reported. Call your electricity provider for the area (see list below).
Learn how to prepare for – and prevent – water, wastewater, gas and electricity issues.
Be prepared for an emergency
Your household emergency kit should help your household shelter-in-place (stay at home) for at least 72 hours.
Refer to the City of Kingston emergency management plan and prepare an emergency kit for your household.