King Street: trained arborists to prune trees, to ensure safe and reliable electricity distribution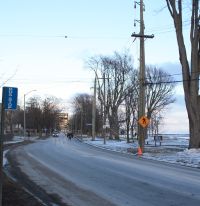 Utilities Kingston is conducting electrical work on King Street, between Beverley and Lower University, in the Breakwater Park area. We are working with trained arborists to prune trees around high voltage lines, while minimizing the impact to trees.
Trees are important to the health and safety of our community, helping to mitigate the impacts of carbon emissions. We're consulting with trained arborists to reduce the impact of this work on the tree cover, while ensuring the continued safety and reliability of electricity services in central Kingston. Utilities Kingston plants two trees for every one that must be removed due to safety concerns.
This work has been expedited because two circuits have faulted and have reached the end of their expected life. Utilities Kingston is upgrading this infrastructure to ensure the continued reliability of power in the hospital and university districts.
Key points about tree trimming:
T

o ensure worker and public health and safety, and to meet regulatory requirements, we contract trained arborists to trim the trees in the entire Kingston Hydro distribution area over a three-year period.

Much of this work is part of the

regular tree trimming program

.

Where possible, we've adapted the design and construction of the pole line to reduce the impact on mature trees.
Tree removal will only occur only if absolutely needed to ensure the safe and reliable distribution of power.

For every publicly owned tree removed, we fund replacement with two trees within the city.

A diagram outlining this tree trimming activity is available below.
Power outages may be required to support this work, and we will communicate directly with impacted customers in advance.
We apologize for any inconvenience. This work helps to ensure a reliable source of electricity to you, our customers. You can count on us! For more information, the public can contact customer service, Monday to Friday, from 8 AM to 5 PM, at 613-546-0000.